Oster® Classic Series 16 Speed Blender with Food Chopper and Glass Jar, Brushed Nickel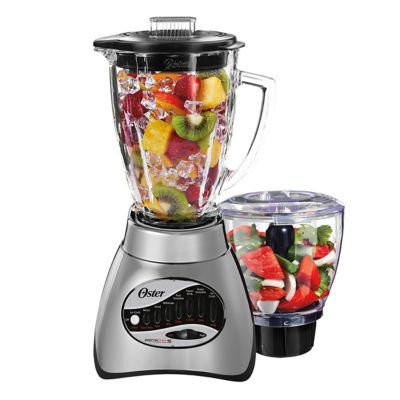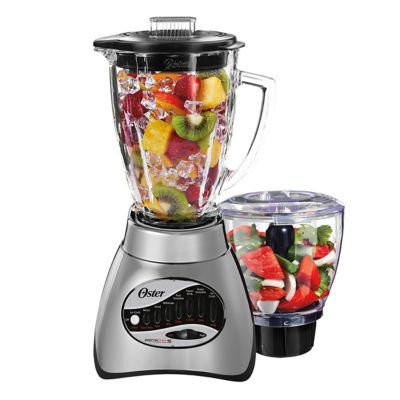 Oster® Classic Series 16 Speed Blender with Food Chopper and Glass Jar, Brushed Nickel
Final Sale: may not be returned or exchanged
Final Sale: may not be returned or exchanged
Product Details
Description
Let the Oster® Classic Series 16 Speed Blender with Food Chopper do the blending and chopping to help make your meal prep quicker and easier. This blender is versatile and performs with power and precision, so you can serve impressive meals that taste delicious, look delicious and make you shine!
Food Chopper - 3-cup BPA-free jar and stainless steel S-blade to make food prep easier
16 Speeds - Different ways to make it fresh from PULSE to PUREE
6-Cup Boroclass® Glass Jar - Dishwasher safe for easy clean up
2-Ounce Filler Cap - Built in markings to measure and pour ingredients while blending
Oster® 10 Year DURALAST™ All-Metal Drive Limited Warranty for lasting durability
3 Year Satisfaction Guarantee
Specifications
Dimensions:

15" x 8" x 8.5"

Power Source:

Polarized Plug
Care & Maintenance
All parts except for the blender base are dishwasher safe. Place sealing ring in bottom basket of dishwasher.
Use a damp, soft sponge with mild detergent to clean the outside of the blender base.
Product Warnings
Boroclass® is a trademark of Crisa Libbey Mexico, S. de R.L. de C.V. used with permission.
Warranty
3-year satisfaction guarantee
Where to Buy
The following link will take you to a site outside of Oster.
Rated

5

out of

5
by
kaytea
from
Perfect Smoothies!
I got this as a replacement for my current blender because it couldn't crush the ice well enough for smoothies. This blender is awesome! I've only made smoothies so far and they are great! It is also really easy to clean with no hidden spaces that traps food.
Date published: 2016-07-05
Rated

1

out of

5
by
MonicaLucas19
from
WORST PRODUCT IVE EVER PURCHASED
If i could give negative stars I would! ABSOLUTELY the ALL-TIME WORST PRODUCT I've EVER purchased! I trusted the name Oster would have quality products as the name is recognizable, since i was a kid. My old blender died and i had to have a new one to make a family dinner. I, along with help, searched for hours for apparently a missing blender part! I couldnt even use the blender. So i was forced to use the food processor- never used one before but i thought it was a good perk. Stupid thing spewed gravy all over my kitchen and caused an extra trip to the store! Then it happened AGAIN! Unfortunately i didnt keep the receipt as I thought Id never need it. Big mistake! I will never plug in this useless item ever again! Avoid this product at all costs!
Date published: 2019-01-27
Rated

4

out of

5
by
B_gregory
from
Very solid, sensible blender.
We recently tried out this blender around our house. Honestly, I'm not that big in to kitchen work, but my wife does occasionally make smoothies. When we got the blender the first thing I noticed was how nice the item looks. It's a very nice look, not cheap as I had somewhat expected. The blender works well and does the job you'd expect without problems. I feel there is enough power to handle heavier projects than smoothies, but we didn't give it a big workout. We did receive the blender as a sample to try out, but I would have no problem purchasing the item for our kitchen. The good job combined with the good look would make this a no brainer. To me, this is a more sensible option compared to some of the high end blenders on the market today.
Date published: 2016-07-06
Rated

5

out of

5
by
Cookie1112
from
Great For Everyday Use
This blender is great for every day use. I love that it has a chopper and a blender. The chopper is great for making salsa, mincing/chopping vegetables and the blender is great for smoothies, milkshakes, frozen margaritas and daiquiris. It had a nice sleek look so I am able to keep it on my countertop. The blades are very powerful and sharp so all my drinks come out smooth. I definitely recommend this blender. *I received this blender for free as a sample.
Date published: 2016-07-07
Rated

5

out of

5
by
sbannon26
from
Quality Product!
I really enjoyed using this product. It was very versatile. It crushed ice easily which made for some really creamy smoothies. I had been in the market for a good food processor for a while now and I liked that this product was able to function as both a blender and a 3 cup food processor! It is a very durable, well made product and is super easy to clean. I threw away my old blender after using this one several times!! Disclaimer: I received this product as a sample to review,
Date published: 2016-07-05
Rated

1

out of

5
by
Steve12345
from
Big waste of money
I was well on my way blending my 3rd smoothie since I bought this blender. The blades were working fine, however they had untwisted the bottom of the blender cup... upon lifting the cup the bottom feel off creating a huge mess and all the other pieces fell apart as well. Simply awful design. Just threw it away. What type of blender spins to loosen the bottom? Never buying from this company again.
Date published: 2017-05-01
Rated

4

out of

5
by
CariAnnMo
from
Solid Blender!
I previously had another Oster Blender that was wearing out. I recieved this blender and LOVE the features and especially love the food processor attachment. I wish I had this blender with my first child, as it would have saved me from buying a baby food maker. The only drawbacks I found are it is quite a bit louder than my previous blender and the buttons seem a little cheaper. But, with that said, it makes smoothies in no time without binding up. I did recieved this product complimentary to review.
Date published: 2016-07-05
Rated

3

out of

5
by
Adrianna
from
Pretty good blender
When I received this blender I was impressed with the durable glass jar. The base nice and durable as well.The blender was great with good power and effectiveness except for ice. The ice crushing ability was not impressive however. While the food processor included is nice, it was not as durable as the glass jar. Disclaimer: I did receive this blender to try out for free.
Date published: 2017-03-21
Rated

3

out of

5
by
Sharan
from
Food Processing Jar is not sturdy
I have been using this blender for more than 2 years .I am pretty happy with overall performance.However the food processing jar is not sturdy.I have already replaced it once as the base of that got broken and all the parts came out. Now for the new one I am not able to close the lid all of a sudden,I think the base is stuck.(I have used it for past 6 months)and I am not able to find a place to buy replacement jar .
Date published: 2017-03-22
Rated

1

out of

5
by
Carl Flagstaff
from
unhappy
The instructions say that all but the motor unit are dishwasher safe. However, the food chopper warped the first time I washed it.
Date published: 2016-08-05
Rated

4

out of

5
by
Neatobean
from
Very Versitile
This blender/food processor has a lot of great functions. I used the blender to make smoothies (which turned out thick and smooth) and pesto (which thoroughly chopped my ingredients.) I used the food processor to make homemade salsa. It did turn out a little soupy, but I might have processed it too long. This blender is very powerful and it can even chop ice. The stainless steel looks beautiful on my counter and the product is a great value. I received the product as a sample to review.
Date published: 2016-07-03
Rated

2

out of

5
by
Al 1970
from
Good blender
I bought this last March, and it was all great and dandy. I only use it maybe once every 3 months or so. I brought it out last week to make some salsa with the food processor and for some reason I could not put the plastic lid on, then I noticed the jar was warped, so the lid was not fitting correctly. I have looked all over the website and no replacement jar available. What a waste and substandard performance by a brand I grew with and believe to be of great quality. So disappointing.
Date published: 2020-07-19
Rated

2

out of

5
by
dansercallie
from
Disappointed with the food chopper
I liked the idea of having a blender and chopper combo because of a small kitchen but I would not buy a combo again. The food chopper is not a good quality like the blender. I would buy a blender separately for a lot less and then buy a food processor. The food chopper is plastic and hard to put together.
Date published: 2017-11-15
Rated

4

out of

5
by
c_a772
from
Great Blender
This blender is great for at home use. The glass jar is thick and great quality, however the food processor is thin and made of plastic and seems like it won't last long. Both of the containers are really easy to use and to clean. Oster should consider making the food processor glass or with thicker plastic. The blades slice through everything I have put in with ease. Overall, this product is a great and a wonderful value. I received this product as a sample to review.
Date published: 2016-07-04
Rated

1

out of

5
by
Zel07
from
Not so durable
I dont know how long is this product supposed to last but less than 2 years with it, and today it started smelling like something was burning, i only used it like once a week because i have one of those personal blenders, it makes a super loud noise since i bought it and i got slower over time
Date published: 2016-09-13
Rated

2

out of

5
by
Carmin
from
Food chopper didn't hold up
I received this as a gift last spring. The blender part works great. The food chopper base is seized up and wind spin. I've used the chopper may 7 or 8 times. I looked on line to find a replacement part but cannot find one. I really like the convenience of this chopper and hate to give it up.
Date published: 2017-10-31
Rated

3

out of

5
by
buyer
from
Didn't hold up
Purchased this item 6 months ago. Happy with item until I noticed a crack in the plastic food processor jar. Disappointed with the price to replace just the one item. Blender works great just wish the plastic jar of the food processor would have held up longer.
Date published: 2016-11-27
Rated

5

out of

5
by
Rose76
from
Does everything that I need a blender to do
Out of the box, the blender looks great. The glass is heavy duty, the stainless steel look is great, and it comes with a food processor attachment. I like all of the named buttons for the different uses as it takes the guessing out of what level the blender should be on. The blender did a great job of getting consistent size ice for the smoothies that I made. I also wanted to make bread crumbs. Attaching the food processor attachment was easy. I tore up a couple slices of bread, and I pulsed the blender. Within seconds I had perfect bread crumbs. Clean up is a snap, fill the blender with water and couple drops of dish soap and hit the Easy Clean button. This blender may not have all of the bells and whistles of a high end blender, but it works great for the average household. (I received the blender as a sample for review)
Date published: 2016-07-04
Rated

3

out of

5
by
ZE89
from
Blender works fine, but the food processor is a pr
The adapter for the food processor works then jams and stops working with a whirling sound. After disassembling and reassembling it will work for a few seconds then jams again with the motor whirling. I don't believe it's safe to operate the procesor. The shaft on the adapter will not turn. The procesor Model number is BLSTCCH154T2 and worked fine for the three years we used it, but I believe Oster has a 10 guarantee warranty on these blenders.
Date published: 2020-06-28
Rated

2

out of

5
by
amym64
from
I can't even find the model number
I can't find the model number. I have looked everywhere. Everything is doubled so I can't read it. The manual doesn't have the model number. I was excited about having a bigger food processor but the lid broke the very first time I used it.
Date published: 2018-01-03
Rated

2

out of

5
by
AshMar86
from
Underwhelming to say the least.
**DISCLAIMER** I was sent this product to test it out and give my honest opinion. I really wanted to like this blender. I was excited to see the that it was supposed to be higher performing than the run of the mill. I used to it to make a Strawberry Daquiri pie; blending melted frozen yogurt, thawed juice concentrate, and rum. It didnt want to mix even though there was about 70% liquid in the container. I had flashbacks to the old blender my parents had when I was growing up. I had to stop it every so often to mix it myself; in hopes that it would finally start working. I did more work than this blender did. The only redeeming quality of this blender is the food processer attachment. (Though for the price you might as well just buy a food processer.) I used it a couple times to make sauces, and to whip up some bananas to freeze into ice cream. It worked really great. Overall, I would pass on suggesting this. There are too many higher performing blenders on the market to be saddled with one that performs like a blender from the 80's.
Date published: 2016-07-02
Rated

5

out of

5
by
Jen2109
from
Versatile, Durable and Stylish!
This is the most amazing blender/food chopper I have ever used. It is extremely high quality and durable. The product makes perfect smoothies and blends without any issues. The clean up is also super easy and quick. I also like the sleek appearance.This product has officially replaced our food processor and is used regularly. (I received this product to test for an honest review).
Date published: 2016-07-04
Rated

1

out of

5
by
dillpickle
from
Shattered
The food processor bowl shattered. I used it 4 times. I reached into my cupboard to use it again, and it literally shattered into pieces as I held onto it. The bottom fell out and it cracked the entire length of the bowl. I then decided to use the blender. As I did, the "Frozen Drink" knob fell off (but it did easily reattach).
Date published: 2020-06-21
Rated

5

out of

5
by
stevendelaney
from
Awesome Blender
I love this blender!!! I was really excited to get this in my home and try it. First I used it for a smoothie, and it came out perfect. I love how quickly it made the smoothie, and it was awesome. Later I used it to make a milkshake, and it was great as well. The texture was amazing!
Date published: 2016-07-06
Rated

4

out of

5
by
Alex Dyer
from
Excellent Blender!
This is a great blender for its category. I do wish it was a little quieter but it blends ice really well. It also chops fruits and vegetables very efficiently. It is easy to use, and I love the multiple attachments. I also like that it comes apart really easily which makes cleaning it a breeze. I gave it 4 stars overall because it is a very good appliance that I wish was a little more refined in terms of noise control. Overall great product!
Date published: 2016-06-30
Rated

5

out of

5
by
AmberD7714
from
Fast and fun!
I really enjoyed using the blender and also having the food processor accessory. We made a delicious salsa from scratch in no time and the clean up was easy. Good quality parts and the color is perfect for any kitchen. I have used a blender that is over $200 and this one works just as well. I would recommend it as a gift or even to upgrade your current blender or food processor.
Date published: 2016-09-20
Rated

4

out of

5
by
MJ12
from
Love the blender, but can't find replacement part
I bought this blender about a year and a half ago. I love the quality and I use it frequently. However, the black plastic piece that attached the food chopper attachment broke, and I have been unable to find the replacement part. Not sure where to look for this one part. I don't want to buy a whole new attachment because the rest of the food chopper is in great shape.
Date published: 2020-04-08
Rated

5

out of

5
by
JMK123
from
Best blender ever!
Had (and it still woks!) the original model of this blender for over 20 years now. It is the best. Bought this one as a back-up just in case the other one quits. I must say, I use the original one everyday for my breakfast smoothie and it works like a charm! Oster is the best!
Date published: 2019-08-15
Rated

5

out of

5
by
beckroe
from
Fabulous Blender!!
I love this blender! It has everything all in one! From chopping vegetables to making smoothies, this blender does it all. It is easy to clean, and doesn't take up a whole bunch of space on my counter. It's so easy to use that even my 13yr old can easily use it!
Date published: 2016-07-04
Rated

4

out of

5
by
Felicia7
from
Excellent for my Green Smoothies!!!!
I love my blender it's been a Godsend!!! BUT this morning when I went to take it off the base to wash and clean it; it will not come off. HAS ANYONE ELSE HAD THIS PROBLEM? Please help don't wanna have to purchase another one only had this one since March.
Date published: 2019-07-11
bvseo_sdk, dw_cartridge, 18.2.0, p_sdk_3.2.0
CLOUD, getReviews, 0ms
reviews, product
---
<!--begin-bvseo-questions--> <!--begin-questions--> <div id="bvseo-questionsSection"> <div class="bvseo-question-answer" data-questionid="2173479"> <h2 class="bvseo-question"> Why won&#39;t the motor adapter on my blender combo food processor go down so the lid on the food processor closes properly </h2> <div class="bvseo-question-detail"> </div> <div class="bvseo-author">Asked by: John53</div> <div class="bvseo-answer" data-answerid="1944083"> That is definitely not the kind of experience that we want you to have. Our bkenders were made with the highest quality materials and we expect them to last. We aim to provide great quality products and we&#39;d like for you to be completely satisfied with your purchase and get the product&#39;s full benefit. Please call our Consumer Care Department at 1-(800) 334-0759 and our team will assist you with your blender with food chopper. For your convenience, we are available Mon-Fri 9am-5pm, EST. We look forward to assisting you! <div class="bvseo-author">Answered by: Oster Consumer Care</div> <div class="bvseo-pubdate">Date published: 2020-08-18</div> </div> </div> <div class="bvseo-question-answer" data-questionid="2183976"> <h2 class="bvseo-question"> How much including tax and shipping to Nashua NH?? </h2> <div class="bvseo-question-detail"> </div> <div class="bvseo-author">Asked by: Philon</div> <div class="bvseo-answer" data-answerid="1942855"> Thank you for reaching out. Price may vary depending on the retail store. To check the price and order, you may visit the link below:&#13;&#10;&#13;&#10;https://www.oster.com/service-and-support/Retailers.html&#13;&#10;&#13;&#10;If you need further assistance, you may contact us through chat and/or email on this site or you can give us a call at 1-800-334-0759. Our product specialists will be more than willing to assist you. For your convenience, we are available Mon-Fri, from 9 am-5 pm, EST. Have a great day! <div class="bvseo-author">Answered by: Oster Consumer Care</div> <div class="bvseo-pubdate">Date published: 2020-08-17</div> </div> </div> <div class="bvseo-question-answer" data-questionid="2193704"> <h2 class="bvseo-question"> Lid for for chopper won&amp;rsquo;t go on.. The metal piece in middle won&amp;rsquo;t allow it to latch. Please help </h2> <div class="bvseo-question-detail"> </div> <div class="bvseo-author">Asked by: NicholeM</div> <div class="bvseo-answer" data-answerid="1940974"> That is definitely not the kind of experience that we want you to have. Our blenders were made with the highest quality materials and we expect them to last. We aim to provide great quality products and we&#39;d like for you to be completely satisfied with your purchase and get the product&#39;s full benefit. Please try to unplug first then after 5-10 minutes plug it back to the wall outlet. If there&#39;s no improvement, please call our Consumer Care Department at 1-(800) 334-0759 and our team will assist you with your blender. For your convenience, we are available Mon-Fri 9am-5pm, EST. We look forward to assisting you! <div class="bvseo-author">Answered by: Oster Consumer Care</div> <div class="bvseo-pubdate">Date published: 2021-11-09</div> </div> </div> <div class="bvseo-question-answer" data-questionid="2194925"> <h2 class="bvseo-question"> When I use my glass jar to blend anything it makes a screeching sound. I even replaced the blade and rubber ring but still am&#13;&#10;Having the same issue. When I use the food chopper attachment with the same base it does not make the same sound. Issue?? </h2> <div class="bvseo-question-detail"> </div> <div class="bvseo-author">Asked by: Shabz</div> <div class="bvseo-answer" data-answerid="1940963"> That is definitely not the kind of experience that we want you to have. Our blenders were made with the highest quality materials and we expect them to last. We aim to provide great quality products and we&#39;d like for you to be completely satisfied with your purchase and get the product&#39;s full benefit. Please call our Consumer Care Department at 1-(800) 334-0759 and our team will assist you with your blender. For your convenience, we are available Mon-Fri 9am-5pm, EST. We look forward to assisting you! <div class="bvseo-author">Answered by: Oster Consumer Care</div> <div class="bvseo-pubdate">Date published: 2020-08-21</div> </div> </div> <div class="bvseo-question-answer" data-questionid="2196463"> <h2 class="bvseo-question"> I have an Oster Precise Blend 12 and burnt the motor out on it. I have all the container and food processor items but only need to replace the power unit. Do you just sell the power unit on its own or do I have to buy a whole new set? </h2> <div class="bvseo-question-detail"> </div> <div class="bvseo-author">Asked by: DomP</div> <div class="bvseo-answer" data-answerid="1936789"> We appreciate you reaching out to us.&#13;&#10;&#13;&#10;We have high expectations for our products here at Oster&amp;reg; and we would like to hear more about your experience with your unit.&#13;&#10;&#13;&#10;Please give us a chance to make it up to you. We urge you to please give us a call at 1-(800) 334-0759 and we will get you all taken care of. For your convenience, we are available Mon-Fri, from 9am-6pm, EST. We look forward to assisting you. <div class="bvseo-author">Answered by: Oster Consumer Care</div> <div class="bvseo-pubdate">Date published: 2020-08-11</div> </div> </div> <div class="bvseo-question-answer" data-questionid="2195559"> <h2 class="bvseo-question"> Price for jar and chopper </h2> <div class="bvseo-question-detail"> </div> <div class="bvseo-author">Asked by: Faby</div> <div class="bvseo-answer" data-answerid="1930233"> All of our products and including replacement parts are available through our Authorized Retailers. You may find this link helpful for the complete list of our online and in-store authorized retailers as prices may vary.&#13;&#10;&#13;&#10;https://www.oster.com/service-and-support/Retailers.html#?sortby&#61;newest <div class="bvseo-author">Answered by: Oster Consumer Care</div> <div class="bvseo-pubdate">Date published: 2020-08-05</div> </div> </div> <div class="bvseo-question-answer" data-questionid="2179968"> <h2 class="bvseo-question"> Hey I need a blade shaft for my blender/food processor. How do I order it? </h2> <div class="bvseo-question-detail"> </div> <div class="bvseo-author">Asked by: Revathi</div> <div class="bvseo-answer" data-answerid="1922550"> Thanks for reaching out! You can purchase Oster products and replacement parts at any of our retail partners by clicking the link below:&#13;&#10;&#13;&#10;https://www.oster.com/service-and-support/Retailers.html <div class="bvseo-author">Answered by: Oster Consumer Care</div> <div class="bvseo-pubdate">Date published: 2020-07-29</div> </div> </div> <div class="bvseo-question-answer" data-questionid="2130660"> <h2 class="bvseo-question"> How much is this blender&amp;nbsp; </h2> <div class="bvseo-question-detail"> </div> <div class="bvseo-author">Asked by: Plumtwesha</div> <div class="bvseo-answer" data-answerid="1890475"> Thanks for asking! Price may vary depending on our retail partners. &#13;&#10;&#13;&#10;You can purchase Oster products and replacement parts by clicking the link below:&#13;&#10;&#13;&#10;https://www.oster.com/service-and-support/Retailers.html <div class="bvseo-author">Answered by: Oster Consumer Care</div> <div class="bvseo-pubdate">Date published: 2020-07-14</div> </div> </div> <div class="bvseo-question-answer" data-questionid="2124966"> <h2 class="bvseo-question"> My blender didn&amp;rsquo;t come with the clear top lid. Is there a way for me to get one?&amp;nbsp; </h2> <div class="bvseo-question-detail"> </div> <div class="bvseo-author">Asked by: LibbyO</div> <div class="bvseo-answer" data-answerid="1890342"> Thank you for reaching out! In order to better assist you with your concern, please give us a call at 1-(800) 334-0759. For your convenience, our Consumer Care Team is available Mon-Fri 8AM-5PM, EST. We look forward to assisting you! &#13;&#10;&#13;&#10;&#13;&#10;Thank you for showing interest! <div class="bvseo-author">Answered by: Oster Consumer Care</div> <div class="bvseo-pubdate">Date published: 2020-07-14</div> </div> </div> <div class="bvseo-question-answer" data-questionid="2010283"> <h2 class="bvseo-question"> would the food processor bowl be available separately as a replacement part? My older model is #6889, with date code A255-T1 </h2> <div class="bvseo-question-detail"> </div> <div class="bvseo-author">Asked by: Bfpolder</div> <div class="bvseo-answer" data-answerid="1849055"> Thanks for reaching out! Yes, it is separately as a replacement part. Hope this helps! <div class="bvseo-author">Answered by: Oster Consumer Care</div> <div class="bvseo-pubdate">Date published: 2020-07-27</div> </div> </div> <div class="bvseo-question-answer" data-questionid="2059077"> <h2 class="bvseo-question"> I bought the Oster Core 16-Speed Blender with Glass Jar, Black, 006878, about 18 months ago and all of a sudden it just stopped working. Would there be a replacement for the bottom part? </h2> <div class="bvseo-question-detail"> </div> <div class="bvseo-author">Asked by: Jean74</div> <div class="bvseo-answer" data-answerid="1848201"> That sure is disappointing, and we would like to help. We encourage you to contact our customer care team at 1-800-334-0759 for assistance with your blender. We are here for you Monday-Friday, from 9am-6pm, EST. We look forward to hearing from you soon! <div class="bvseo-author">Answered by: Oster Consumer Care</div> <div class="bvseo-pubdate">Date published: 2020-06-04</div> </div> </div> <div class="bvseo-question-answer" data-questionid="2026113"> <h2 class="bvseo-question"> Do you have only the replacement for the food chopper? </h2> <div class="bvseo-question-detail"> </div> <div class="bvseo-author">Asked by: ireri</div> <div class="bvseo-answer" data-answerid="1824341"> Thank you for reaching out. In order to better assist you in obtaining the parts that you need for your blender, please give us a call at 1-800-334-0759. For your convenience, we are available Mon-Fri 9am-6pm, EST. We look forward to assisting you. <div class="bvseo-author">Answered by: Oster Consumer Care</div> <div class="bvseo-pubdate">Date published: 2020-05-21</div> </div> </div> <div class="bvseo-question-answer" data-questionid="2026059"> <h2 class="bvseo-question"> How much is that blender? </h2> <div class="bvseo-question-detail"> </div> <div class="bvseo-author">Asked by: ConnieB</div> <div class="bvseo-answer" data-answerid="1824251"> Thanks for reaching out! As we pursue new pathways to bring our products directly to you, we are relying on our retail partners to offer you the best of Oster products. You can purchase Oster products and replacement parts at any of our retail partners.&#13;&#10;You may find this link helpful for the complete list of our online and in-store authorized retailers:&#13;&#10;&#13;&#10;https://www.oster.com/service-and-support/Retailers.html#?sortby&#61;newest&#13;&#10;&#13;&#10;If you need further assistance, kindly give us a call at 1-(800) 334-0759 and we will get you all taken care of. For your convenience, we are available Mon-Sat 9am-6pm, EST. <div class="bvseo-author">Answered by: Oster Consumer Care</div> <div class="bvseo-pubdate">Date published: 2020-05-21</div> </div> </div> <div class="bvseo-question-answer" data-questionid="2000320"> <h2 class="bvseo-question"> I bought a 12 speed Oster blender capable of crushing ice. The blender came with one glass jar and one additional plastic jar. which jar is for crushing ice? </h2> <div class="bvseo-question-detail"> </div> <div class="bvseo-author">Asked by: hothotte</div> <div class="bvseo-answer" data-answerid="1810985"> We are glad you asked. The 6-Cup Boroclass&amp;reg; Glass Jar has a blade that pulverizes ice for smooth frozen drinks. While the 3-cup BPA-free jar and stainless steel S-blade is a food Chopper. Hope this helps. <div class="bvseo-author">Answered by: Oster Consumer Care</div> <div class="bvseo-pubdate">Date published: 2020-05-12</div> </div> </div> <div class="bvseo-question-answer" data-questionid="2001895"> <h2 class="bvseo-question"> Can I crush ice cubes </h2> <div class="bvseo-question-detail"> </div> <div class="bvseo-author">Asked by: Hothotte</div> <div class="bvseo-answer" data-answerid="1809725"> Thank you for reaching out. This blender is an ice crusher. It has a blade that pulverizes ice for smooth frozen drinks. In blending tips you may check the helpful tips for best ice crushing on the link below for your own reference:&#13;&#10;&#13;&#10;https://www.oster.com/on/demandware.static/-/Sites-oster-Library/default/dw48f1034f/documents/instruction-manuals/Helpful%20Tips.pdf&#13;&#10;&#13;&#10;You can also check the user manual of your blender with the link below:&#13;&#10;&#13;&#10;https://www.oster.com/on/demandware.static/-/Sites-oster-Library/default/dw001b6412/documents/instruction-manuals/Oster%20Blender%20IB%20General.pdf&#13;&#10;&#13;&#10;Hope this helps. <div class="bvseo-author">Answered by: Oster Consumer Care</div> <div class="bvseo-pubdate">Date published: 2020-05-11</div> </div> </div> <div class="bvseo-question-answer" data-questionid="1982348"> <h2 class="bvseo-question"> What is the price? </h2> <div class="bvseo-question-detail"> </div> <div class="bvseo-author">Asked by: Dendy</div> <div class="bvseo-answer" data-answerid="1798479"> Thanks for reaching out! As we pursue new pathways to bring our products directly to you, we are relying on our retail partners to offer you the best of Oster products. You can purchase Oster products and replacement parts at any of our retail partners. You may find this link helpful for the complete list of our online and in-store authorized retailers:&#13;&#10;&#13;&#10;https://www.oster.com/service-and-support/Retailers.html#?sortby&#61;newest&#13;&#10;&#13;&#10;If you need further assistance, kindly give us a call at 1-(800)334-0759 and we will get you all taken care of. For your convenience, we are available Mon-Sat 9am-6pm, EST. <div class="bvseo-author">Answered by: Oster Consumer Care</div> <div class="bvseo-pubdate">Date published: 2020-05-04</div> </div> </div> <div class="bvseo-question-answer" data-questionid="1982356"> <h2 class="bvseo-question"> What is the price.? </h2> <div class="bvseo-question-detail"> </div> <div class="bvseo-author">Asked by: Dendy</div> <div class="bvseo-answer" data-answerid="1798460"> Thanks for reaching out! As we pursue new pathways to bring our products directly to you, we are relying on our retail partners to offer you the best of Oster products. You can purchase Oster products and replacement parts at any of our retail partners. You may find this link helpful for the complete list of our online and in-store authorized retailers:&#13;&#10;&#13;&#10;https://www.oster.com/service-and-support/Retailers.html#?sortby&#61;newest&#13;&#10;&#13;&#10;If you need further assistance, kindly give us a call at 1-(800)334-0759 and we will get you all taken care of. For your convenience, we are available Mon-Sat 9am-6pm, EST. <div class="bvseo-author">Answered by: Oster Consumer Care</div> <div class="bvseo-pubdate">Date published: 2020-05-04</div> </div> </div> <div class="bvseo-question-answer" data-questionid="1965818"> <h2 class="bvseo-question"> Can I order a new lid for the food chopper? </h2> <div class="bvseo-question-detail"> </div> <div class="bvseo-author">Asked by: Janisse</div> <div class="bvseo-answer" data-answerid="1784583"> Thanks for reaching out. To further help you with replacement parts, we urge you to please give us a call at (800) 334-0759 and we will get you all taken care of. For your convenience, we are available Mon-Sat 9am-6pm, EST. We look forward to hearing from you! <div class="bvseo-author">Answered by: Oster Consumer Care</div> <div class="bvseo-pubdate">Date published: 2020-04-24</div> </div> </div> <div class="bvseo-question-answer" data-questionid="1961173"> <h2 class="bvseo-question"> in what country is the blender made? </h2> <div class="bvseo-question-detail"> </div> <div class="bvseo-author">Asked by: Zakary</div> <div class="bvseo-answer" data-answerid="1780201"> Thanks for reaching out! Most Oster Blenders are made in North America, and backed by the superior quality and power of All-metal-Drive. Because the two pieces that connect are metal (instead of plastic), you get a more durable and longer-lasting blender that will function flawlessly, party after party, year after year. ( Excludes My Blend and Versa which are made in China).&#13;&#10;&#13;&#10;We manufacture our motors and assemble our blenders in our own facility in Acuna, Mexico. All blenders undergo rigorous testing, such as ice crushing test. Hope this helps! <div class="bvseo-author">Answered by: Oster Consumer Care</div> <div class="bvseo-pubdate">Date published: 2020-04-22</div> </div> </div> <div class="bvseo-question-answer" data-questionid="1937867"> <h2 class="bvseo-question"> I need the glass for this blender, could any of the glasses will fit? or it has to be specifically this one? </h2> <div class="bvseo-question-detail"> </div> <div class="bvseo-author">Asked by: Matia Tuiz</div> <div class="bvseo-answer" data-answerid="1761861"> Thank you for reaching out! In order to better assist you with your concern, please call us at (800) 334-0759. For your convenience, our Consumer Care team is available Mon-Fri 9am-6pm, EST. Thanks and have a great day! <div class="bvseo-author">Answered by: Oster Consumer Care</div> <div class="bvseo-pubdate">Date published: 2020-04-10</div> </div> </div> <div class="bvseo-question-answer" data-questionid="1832508"> <h2 class="bvseo-question"> I need detailed instructions on how to put this blender/processor together. The instructions enclosed don&#39;t work for me </h2> <div class="bvseo-question-detail"> </div> <div class="bvseo-author">Asked by: SeanG</div> <div class="bvseo-answer" data-answerid="1758248"> Thanks for reaching out! As we pursue new pathways to bring our products directly to you, we are relying on our retail partners to offer you the best of Oster products. You can purchase Oster products and replacement parts at any of our retail partners.&#13;&#10;&#13;&#10;You may find this link helpful for the complete list of our online and in-store authorized retailers:&#13;&#10;&#13;&#10;https://www.oster.com/service-and-support/Retailers.html#?sortby&#61;newest&#13;&#10;&#13;&#10;If you need further assistance, kindly give us a call at (800) 334-0759 and we will get you all taken care of. For your convenience, we are available Mon-Fri 9am-6pm, EST. <div class="bvseo-author">Answered by: Oster Consumer Care</div> <div class="bvseo-pubdate">Date published: 2020-04-08</div> </div> </div> <div class="bvseo-question-answer" data-questionid="1916314"> <h2 class="bvseo-question"> Can i make ground Turmeric from dried turmeric root with my Durolast classic? </h2> <div class="bvseo-question-detail"> </div> <div class="bvseo-author">Asked by: Ed44heim</div> <div class="bvseo-answer" data-answerid="1757744"> Great question! Yes you can. Just make sure to clean it properly prior next use. Have a great day! <div class="bvseo-author">Answered by: Oster ConsumerCare</div> <div class="bvseo-pubdate">Date published: 2020-04-08</div> </div> </div> <div class="bvseo-question-answer" data-questionid="1927215"> <h2 class="bvseo-question"> What is the exact model number for this product? Trying to register on line..cant find a number on the box. </h2> <div class="bvseo-question-detail"> </div> <div class="bvseo-author">Asked by: Leila</div> <div class="bvseo-answer" data-answerid="1757721"> Great Question! The Oster&amp;reg; Classic Series model number is 6878. You can find it at the very bottom of the blender motor, should be labeled as Service #. Have a great day! <div class="bvseo-author">Answered by: Oster ConsumerCare</div> <div class="bvseo-pubdate">Date published: 2020-04-07</div> </div> </div> <div class="bvseo-question-answer" data-questionid="1412836"> <h2 class="bvseo-question"> Parts </h2> <div class="bvseo-question-detail"> </div> <div class="bvseo-author">Asked by: Bertie</div> <div class="bvseo-answer" data-answerid="1753470"> Thanks for reaching out! We would like to hear more about this so we can determine the next steps. Please call us at 1-(800) 334-0759 so we can speak to you directly. You can reach us between the hours of 9AM-6PM EST Monday-Friday. Talk to you soon! <div class="bvseo-author">Answered by: Oster Consumer Care</div> <div class="bvseo-pubdate">Date published: 2020-04-04</div> </div> </div> <div class="bvseo-question-answer" data-questionid="1730301"> <h2 class="bvseo-question"> Does the red font options go with the low setting which is also in red font </h2> <div class="bvseo-question-detail"> </div> <div class="bvseo-author">Asked by: Ndhayden2</div> <div class="bvseo-answer" data-answerid="1748567"> Thank you for reaching out. Yes the red fonts means low speed requirement. Have a nice day! <div class="bvseo-author">Answered by: Oster Consumer Care</div> <div class="bvseo-pubdate">Date published: 2020-03-31</div> </div> </div> <div class="bvseo-question-answer" data-questionid="1433768"> <h2 class="bvseo-question"> Can the voltage of the blender work with ours in Nigeria? This I need to confirm before ordering. Thank you </h2> <div class="bvseo-question-detail"> </div> <div class="bvseo-author">Asked by: Olakay27</div> <div class="bvseo-answer" data-answerid="1744177"> We&#39;re glad you&#39;ve asked! Our Oster blenders use 110-120 voltage and not advisable to use the machine outside the U.S. <div class="bvseo-author">Answered by: Oster Consumer Care</div> <div class="bvseo-pubdate">Date published: 2020-03-27</div> </div> </div> <div class="bvseo-question-answer" data-questionid="1386550"> <h2 class="bvseo-question"> I just purchased the Oster Precise Blend 700 (with the extra food chopper) at Target on 12/26/18. I removed everything from the box and assembled, but the box did not contain the blender blade and rubber ring. Can you send one to me? </h2> <div class="bvseo-question-detail"> </div> <div class="bvseo-author">Asked by: Ingrid</div> <div class="bvseo-answer" data-answerid="1741031"> Thanks for reaching out! We are sorry to hear about the missing pieces of your blender, kindly give us a call at 1 (800) 334-0759 and we will get you all taken care of. For your convenience, we are available Mon-Fri 9am-6pm, EST. <div class="bvseo-author">Answered by: Oster Consumer Care</div> <div class="bvseo-pubdate">Date published: 2020-03-25</div> </div> </div> <div class="bvseo-question-answer" data-questionid="1406245"> <h2 class="bvseo-question"> can you make peanut butter with this blender? </h2> <div class="bvseo-question-detail"> </div> <div class="bvseo-author">Asked by: Gail P</div> <div class="bvseo-answer" data-answerid="1738975"> Good question! Yes, you can. Add the peanuts to your Oster blender, and turn on the blender to its low speed. After the peanuts are completely broken down and begin to turn creamy (about 2-3 minutes), turn the blender to its medium speed. Continue blending until the peanut butter is completely smooth. <div class="bvseo-author">Answered by: Oster Consumer Care</div> <div class="bvseo-pubdate">Date published: 2020-05-02</div> </div> </div> <div class="bvseo-question-answer" data-questionid="1475545"> <h2 class="bvseo-question"> I have a 3 cup plastic food chopper which I purchased years ago, but I am not sure it purees vegetables. Is the glass food chopper stronger (the blades) than the plastic one? </h2> <div class="bvseo-question-detail"> </div> <div class="bvseo-author">Asked by: jane 11</div> <div class="bvseo-answer" data-answerid="1738780"> We&#39;re glad you asked! Yes, glass food choppers are better when it comes to grinding, blending or making vegetable purees. <div class="bvseo-author">Answered by: Oster Consumer Care</div> <div class="bvseo-pubdate">Date published: 2020-03-24</div> </div> </div> <div class="bvseo-question-answer" data-questionid="1900132"> <h2 class="bvseo-question"> Where can I find a replacement lid to the food processor?&amp;nbsp; </h2> <div class="bvseo-question-detail"> </div> <div class="bvseo-author">Asked by: Jojo89</div> <div class="bvseo-answer" data-answerid="1733109"> Thank you for reaching out! As we pursue new pathways to bring our products directly to you, we are relying on our retail partners to offer you the best of Oster products. &#13;&#10;&#13;&#10;You can purchase Oster products and replacement parts at any of our retail partners.&#13;&#10;&#13;&#10;You may find this link helpful for the complete list of our online and in-store authorized retailers:&#13;&#10;&#13;&#10;https://www.oster.com/service-and-support/Retailers.html#?sortby&#61;newest&#13;&#10;&#13;&#10;If you need further assistance, kindly give us a call at (800) 334-0759 and we will get you all taken care of. For your convenience, we are available Mon-Fri, from 9am-6pm, EST. <div class="bvseo-author">Answered by: Oster Consumer Care</div> <div class="bvseo-pubdate">Date published: 2020-03-19</div> </div> </div> </div> <script type="text/javascript"> if (document.getElementById('bvseo-questionsSection')) { document.getElementById('bvseo-questionsSection').style.display = 'none'; } </script> <!--end-questions--> <!--begin-pagination--> <ul id="bvseo-paginationSection"> <li class="bvseo-paginationItem"><a class="bvseo-paginationLink" href="https://www.oster.com/blenders-juicers/blender-food-processor-combos/oster-classic-series-16-speed-blender-with-food-chopper-and-glass-jar-brushed-nickel/SAP_6878000N01.html?&bvrrp=Main_Site-en_US/questions/product/3/SP_331149.htm">Oster&reg; 700 Watt 16 Speed Blender, Brushed Nickel Questions - page 3</a></li> </ul> <!--end-pagination--> <ul id="BVSEO_meta" style="display:none!important"> <li data-bvseo="bvDateModified">y_2021, m_11, d_26, h_19CST</li> <li data-bvseo="ps">bvseo_bulk, prod_bvqa, vn_bulk_3.0.20</li> <li data-bvseo="cp">cp_2, bvpage2n</li> <li data-bvseo="co">co_hasquestionsanswers, tq_95</li> <li data-bvseo="cf">loc_en_US, sid_SP_331149, prod, sort_[SortEntry(order=LAST_APPROVED_ANSWER_SUBMISSION_TIME, direction=DESCENDING)]</li> <li data-bvseo="diagnostics">clientName_oster</li> </ul> <!--end-bvseo-questions--> <ul id="BVSEOSDK_meta" style="display: none !important;"> <li data-bvseo="sdk">bvseo_sdk, dw_cartridge, 18.2.0, p_sdk_3.2.0</li> <li data-bvseo="sp_mt">CLOUD, getContent, 0ms</li> <li data-bvseo="ct_st">questions, product</li> </ul>
product-detail-view
oos-pdp