5 Smoothies Under 200 Calories
You can include a freshly blended smoothie as part of your fitness routine without worrying that you're undoing the calories you've just burned. Just try making one of these five smoothies in your kitchen blender. Each one carries less than 200 calories per serving and can be a great way to consume vitamin-rich fruits and vegetables.
1. Beet-Red Raspberry Smoothie
If you love a vibrant red treat, this smoothie is perfect for you. And at 183 calories per cup, you won't be left feeling overly full. Mix 1 cup of red grapes, 1/4 cup of chopped carrots, 1/4 cup of chopped beets, 6 ounces of nonfat Greek yogurt, 2 teaspoons agave nectar, 1/2 cup raspberries and ice into your 4-cup blender. Blend and pour for a rich, flavorful smoothie that mixes veggies and fruits for high levels of vitamin A, vitamin C and potassium.
2. Oats and Ginger
The key to making a low calorie smoothie is to focus on tasty combinations of low calorie foods. For this tasty breakfast smoothie, combine cooked oatmeal with nonfat yogurt, fresh strawberries, a small portion of grated ginger, half a banana (chopped) and ice. This is a great option if you like a bowl of oatmeal for breakfast, but don't have time to sit down and enjoy it. Oatmeal is rich with fiber, protein, carbohydrates and minerals such as magnesium and iron.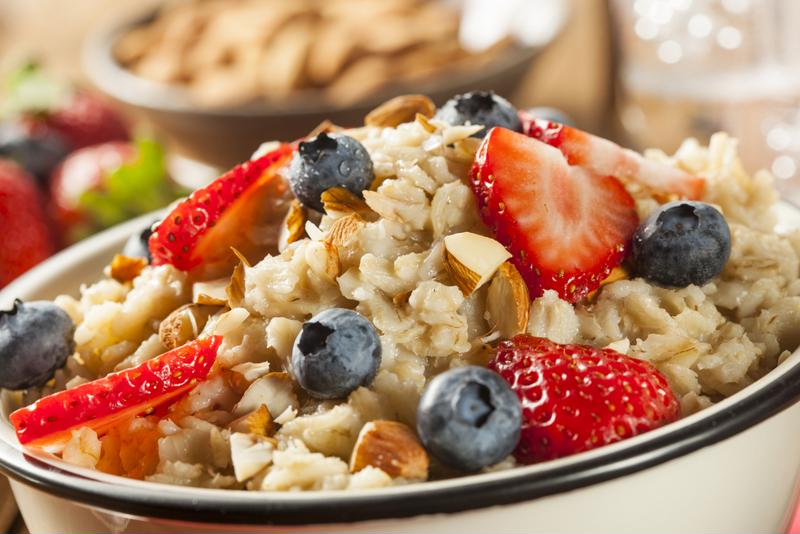 3. Very Cherry Berry Smoothie
Much like ginger, cherries have a powerful flavor and, when used sparingly, not many calories. Use a small number of pitted, halved cherries to anchor your smoothie. Then mix in some frozen mixed berries, nonfat yogurt, a teaspoon of vanilla extract and a dollop of honey. Blend your concoction on high and serve yourself a sweet, fruit-filled treat after your next cardio class.
4. Mean, Green and Lean
Mix your vegetables and fruit for a sweet, green treat that will help you reach your daily values for the day. Combine green grapes, honeydew melon, chopped Granny Smith apples, spinach and kale in your blender with ice. Blend on HIGH and add cold water as needed to get you consistency right.
5. The Coconutty
For a cool, refreshing smoothie that also packs a little post-workout protein, mix peanut butter with coconut milk. Use lowfat coconut milk, peanut butter, plenty of ice and a few cut strawberries for an added flavor. This is the perfect smoothie to add a little protein powder or chocolate sauce to. But, when left alone, it can clock in under 200 calories.