3 Fun Recipes to Make with Kids
Kids love to have some fun in the kitchen with Mom, and there are so many easy recipes out there that parents and their kids can make together. The Oster® 6 Speed Retractable Cord Hand Mixer makes it a cinch to whip up some tasty treats kids will love. With the Clean Start™ feature and one-touch operation, mixing batters and doughs - and cleaning it all up after - has never been easier. With the Oster® Hand Mixer, you can focus on spending time with your kids, and not on the mess after you're done.
Try making these three fun recipes with your kids.
1. Ice Cream Cone Cupcakes
Your kids will get a kick out of these fun treats, that look like classic ice cream cones but are actually frosted cupcakes. Best of all, there's no mess from melting ice cream or dropped cones! These ice cream cone cupcakes are also perfect for bringing to a child's birthday party, and your kid will love being able to help out.
Ingredients:
1 box vanilla or chocolate cake mix
2 eggs
1/3 cup cold water
1 1/2 tablespoons vegetable oil
24 ice cream cones (flat-bottomed)
1 container vanilla or chocolate frosting
Rainbow sprinkles
Directions
Add the cake mix, eggs, water and oil to a large bowl. Mix on medium-high speed with the Oster® 6 Speed Retractable Cord Hand Mixer with Clean Start™ until smooth, about 1-2 minutes. If you are using small ice cream cones, you can place each cone upright on a baking sheet lined with parchment paper. Otherwise, mist a 24-cup muffin tin, or two 12-cup tins, with cooking spray, then place a paper liner in each cup. Pour the batter evenly into the cups. Then, place an ice cream cone upside-down into each cup of batter. Bake at 350 degrees for 25-30 minutes. Once done cooking, let cool in the pan for 5 minutes then carefully remove the cups and let cool completely. Spread each ice cream cone with frosting, top with sprinkles and serve.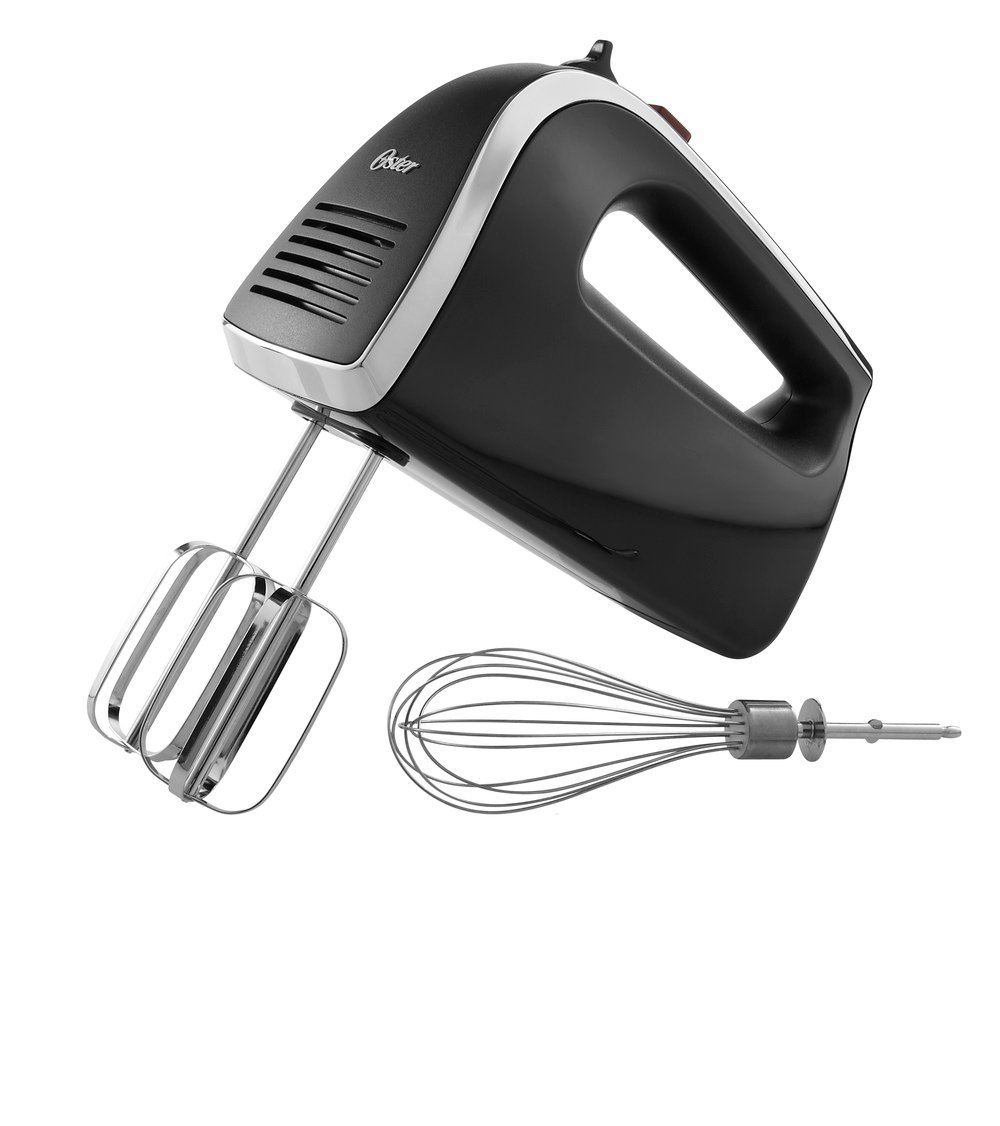 2. Banana Split on a Stick
Banana split on a stick - your kids won't believe it! But they'll love making this fun and creative treat with Mom. Have your kids form an assembly line to make preparing this treat even more fun: Each of your kids can be responsible for adding a specific ingredient to the skewer!
Ingredients:
2 cups dark chocolate chips
1/2 cup caramel sauce
4 bananas, sliced
1 can pineapple chunks
1 jar maraschino cherries
Chopped nuts
Popsicle sticks
Directions
Melt the chocolate chips in the microwave until smooth. Then, pour into a large bowl and add the caramel sauce. Using the Oster® 6 Speed Retractable Cord Hand Mixer with Clean Start™ on medium-high speed, mix together the chocolate and caramel until fully combined. Slide a banana slice, pineapple chunk and cherry onto a popsicle stick. Then, dip the "fruit kebab" in the chocolate and then in the chopped nuts. Repeat with the remaining ingredients. Arrange the kebabs on a dish lined with parchment paper and freeze for 1-2 hours before enjoying.
3. Homemade Soft Pretzels
Soft, warm freshly made pretzels call to mind carnivals, baseball games and circuses. Your kids will love rolling, twisting and arranging the dough to make their very own homemade soft pretzels.
Ingredients:
1 1/3 cups warm water
1 packet active dry yeast
2 teaspoons sugar, plus an additional 1/4 cup
2 teaspoons salt
4 2/3 cups all-purpose flour
3 tablespoons butter, softened
2 tablespoons cooking oil
1/2 cup baking soda
6 cups hot water
Pretzel salt
Directions
Pour the warm water into a large bowl and add the packet of yeast and let it sit until it dissolves and begins to foam. Then add the 2 teaspoons of sugar and the salt. Stir the mixture together on medium speed using the Oster® 6 Speed Retractable Cord Hand Mixer with Clean Start™ for 1 minute. Add the flour, butter and remaining 1/4 cup sugar and resume mixing with the Oster® 6 Speed Retractable Cord Hand Mixer with Clean Start™ for 4-6 minutes until the dough begins to gather in the center of the bowl and is slightly sticky. Remove the dough and wipe the bowl down with a damp cloth, then oil the bowl and turn over the dough in the bowl to evenly coat it with a thin layer of oil. Cover the bowl with plastic wrap and set it in a warm place to rise, about 1 hour. Once it's ready, remove the dough and place it on a baking sheet lined with parchment paper. Roll the dough into 1 inch-thick strips, and twist the left side of each strip over the right side to form a pretzel shape. Mom should take care of this next step: Dissolve the baking soda in 6 cups of hot water. Dip each pretzel in the baking soda water, sprinkle with pretzel salt and place back on the baking sheet. Bake at 450 degrees for 10-15 minutes or until golden brown. Let cool before serving.