4 Blender Dips that Will Wow at Your Next Party
It's no coincidence that party guests tend to gather around the dip. Sweet or savory, and whether served with chips, crackers or bread, delicious dips are an essential of any event.
While basic dips are great go-tos in a cinch, why not impress your guests with some extra special flavor combinations? A palate-pleasing dip doesn't have to take ages to prepare, either - with your Oster® Precise Blend™ 300 Blender, you can create showstopping dips in just minutes, so you can spend more time with your party guests.
Here are four recipes for blender dips that will truly wow at your next party:
1. Cranberry Brie Dip
This appetizing dip is the perfect balance of sweet and salty, and will wow at parties any time of year. The tart flavor of cranberry blends perfectly with mouth-wateringly creamy Brie. With the bright red colors of the cranberries garnished with a drizzle of delectable honey, this is one dip that wins high marks for both taste and presentation. To make this dip even more impressive, serve it warm from the oven. Pair with small pieces of French bread, fresh or toasted, and ancient grain crackers.
Ingredients:
16 ounces Brie
2 1/4 cup fresh cranberries
1 teaspoon nutmeg
1/2 teaspoon salt
Dash of lemon juice
4 tablespoons honey
Directions
Add the Brie, cranberries, nutmeg, salt, lemon juice and 1 tablespoon honey to your Oster® Precise Blend™ 300 Blender. Blend until smooth, about 2-3 minutes. If serving warm, transfer dip to a pie pan and bake at 350 degrees for 10 minutes. Before serving, drizzle with the remaining honey and garnish with whole cranberries.
2. Caramelized Onion Hummus
Trade basic spinach artichoke dip for this satisfying caramelized onion hummus that will have your guests' taste buds celebrating. Sweet and slightly smoky caramelized onions add rustic warmth to rich hummus to make a perfect dip for any gathering. Serve with pita or bagel chips and sliced raw veggies.

Ingredients:
3 tablespoons olive oil
1 large yellow onion, peeled and chopped
1 tablespoon brown sugar
4 garlic cloves, peeled
1 can chickpeas, drained and rinsed
2 tablespoons tahini
1/2 teaspoon salt
1/2 teaspoon pepper
3 tablespoons lemon juice
Directions
Heat 1 tablespoon of olive oil in a skillet over medium-low heat. Add onions and sugar and cook until the onions are caramelized, stirring throughout. Set aside 1 tablespoon of caramelized onions. Add the remaining onions, oil, garlic, chickpeas, tahini, salt, pepper and lemon juice to your Oster® Precise Blend™ 300 Blender. Blend until smooth, about 2-3 minutes. Transfer to dish and garnish with extra caramelized onions, a drizzle of olive oil and a splash of lemon juice.
3. Mozzarella-Parmesan Pesto Dip
Celebrate rich Italian flavors with this tasty dip. Aromatic basil lends a fresh flavor that combines perfectly with creamy mozzarella, while a topping of juicy tomatoes adds a finishing touch to this dip that party guests will keep coming back to. Pair with small slices of toasted Italian bread. For extra presentation points, serve warm right out of the oven - the mozzarella will be bubbling and the Parmesan perfectly melted!
Ingredients:
10 ounces mozzarella cheese, sliced into cubes
1 1/2 cups fresh basil
4 cloves garlic
1/2 cup pine nuts
3/4 cup finely grated Parmesan cheese
1/4 cup olive oil
2 teaspoons salt
1 teaspoon pepper
1 large tomato, chopped
Directions
Add mozzarella cheese, basil, garlic, pine nuts, Parmesan cheese, olive oil, salt and pepper to your Oster® Precise Blend™ 300 Blender. Blend until smooth, about 2-3 minutes. If serving warm, transfer to oven-safe dish and bake at 350 degrees for 20-23 minutes, until top of dip begins to brown. Before serving, top with chopped tomatoes and a few sprigs of fresh basil.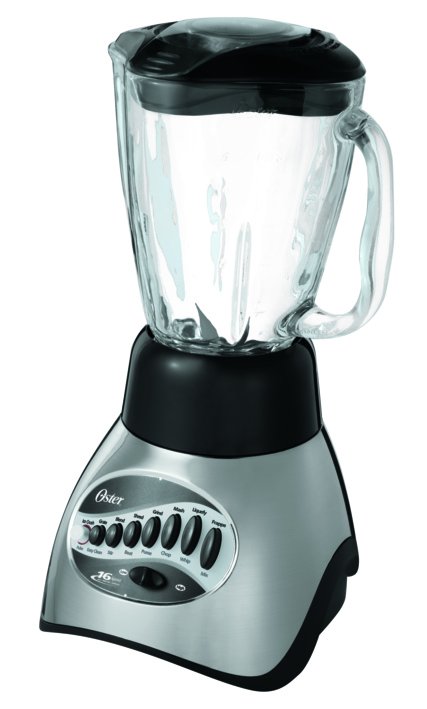 4. Cherry Cheesecake Dip
​Everyone loves dessert - and they'll love this decadent dip, too! Savory flavors move out of the spotlight for this rich cherry cheesecake dip that will be the star of the party. It tastes like a real New York cheesecake, and guests will have fun scooping up this indulgent treat with small cubes of pound cake, graham crackers and fresh fruit!
Ingredients:
8 ounces cream cheese, softened
12 ounces whipped topping
1/2 cup plain Greek yogurt
2 teaspoons vanilla extract
16 ounces cherry pie filling
Whipped cream
Directions
Add cream cheese, whipped topping, Greek yogurt and vanilla extract to your Oster® Precise Blend™ 300 Blender. Blend until smooth, about 2-3 minutes. Transfer to large baking dish or shallow bowl and spread evenly with a spatula. Pour cherry pie filling on top of cream cheese mixture and spread to fill dish. Refrigerate for 30 minutes before serving to chill, and top with swirls of whipped cream.