The Perfect Fondue Night
Fondue night is a fun and relaxing way to have a get-together with friends and family. You and your guests can enjoy indulgent chocolate and cheese fondues accompanied by an array of delectable dippers. The Oster® Titanium Infused DuraCeramic™ 3-Quart Fondue Pot makes it easy for you to host a fondue night - simply add the ingredients and unwind over delicious eats and great conversation.
Ready to host a fondue night? Below are a variety of different recipes depending on what type of atmosphere you are going for. The Classic Cheese Fondue is a wonderful way to have guests mingle over appetizers or gather everyone around the table and serve Broth Fondue as the main course or Chocolate Fondue for dessert.
The Setting
​The Oster® Titanium Infused DuraCeramic™ Fondue Pot comes with eight fondue forks, perfect for an intimate party. Fondue is synonymous with subtle elegance, comfort and indulgence, so set the same tone in your party space. Place the fondue pot on a low table, then surround it with enough plush sofas and chairs to accommodate your guests. Soft lighting and candles also help to create a relaxing ambiance.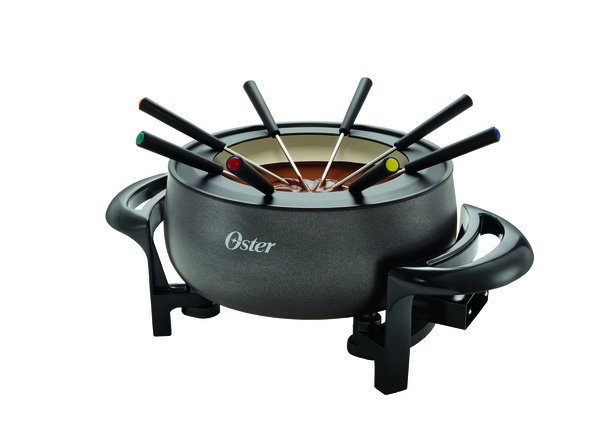 The Menu
Of course, the star of the evening is the fondue! Wow your guests' palates by serving not just one but several different kinds of fondue, from cheese to chocolate, alongside a diverse spread of dipping foods. Here are a few fondue recipes that are perfect for your party:
Classic Cheese Fondue
The quality of cheese fondue depends on the types of cheeses used, and this recipe combines just the right varieties for a perfectly melted and satisfying cheese fondue. Serve with cubes of French bread, mushrooms, asparagus, cherry tomatoes or cooked potato wedges.
Ingredients:
1/2 pound shredded Swiss cheese
1/2 pound shredded Gruyere cheese
2 tablespoons cornstarch
1 peeled garlic clove
1 cup dry white wine
1 tablespoon lemon juice
1 tablespoon of cherry brandy, such as Kirsch
1/2 teaspoon of dry mustard
Pinch of nutmeg
Directions
In a medium bowl, coat the shredded cheese with the cornstarch. Rub the garlic clove around the inside of the fondue pot, then pour in the white wine followed by the lemon juice. Add the cheeses and gradually stir the cheese into the simmering liquid. Stir in the brandy, dry mustard and pinch of nutmeg until completely combined and enjoy.
Dark Chocolate Fondue
Cheese fondue is a classic, but no party is complete without decadent chocolate fondue. This fondue features a rich dark chocolate flavor, but if you prefer a sweeter taste, you can swap the dark chocolate for milk chocolate. Best of all, this fondue takes only three ingredients to make! Serve with pound cake or fruit like strawberries, bananas, pineapple, cantelope and kiwi.
Ingredients:
2 cups heavy cream
2 teaspoons vanilla extract
16 ounces dark chocolate chips
Directions
Pour the heavy cream into your fondue pot, followed by the vanilla and chocolate. Stir together until melted and smooth, then enjoy.
Cooking Foods in your Fondue Pot
Did you know that you can also cook meat and other foods in your fondue pots? You can simply heat oil in your fondue pot and then cook a variety of foods like meatballs, sausages and root vegetables in the oil, or you can impress your guests even more with this easy recipe.
Broth Based Fondue
Add some culinary variety to your fondue night by making this easy beef based fondue that pairs wonderfully with savory dippers like cubes of chicken, sausages and meatballs and French bread.
Ingredients:
24 ounces beef broth
2 cups water
1 cup chopped onion
2 bay leaves
2 teaspoons dried parsley
2 teaspoons ground pepper
2 teaspoons minced garlic
Directions
Add all ingredients to your Oster® Fondue Pot, stirring throughout. Place dippers such as small pieces of meat, potato wedges or mushrooms to the ends of each fondue fork. Place fork into the fondue until the food is completely cooked through, and enjoy.