Worry-Free Holiday Roasting
Traditionally, serving a perfectly roasted turkey for the holidays takes a lot of work and patience, from finding the right cooking time and basting every half hour, to carving it into juicy slices. All that's changed, though, with the innovative line of Oster® Roaster Ovens. These fool-proof roasters boast cutting-edge features that streamline the turkey-cooking process to save your hours of frustration and give you back that much needed time to prepare for guests.
Read on to learn why you'll serve the best turkey ever with these new worry-free Oster® Roaster Ovens, and why you'll never need to baste again:
Slashes the Defrost Time
Know anyone that's ever misjudged defrost time? It typically takes a week to defrost a large holiday turkey in the fridge, taking up more time and space than you'd like. The Oster® 20-Quart Roaster Oven with Defrost and Self-Basting Lid has an innovative defrost setting that slashes the thawing time, so that your turkey can be ready to cook in just hours, not days.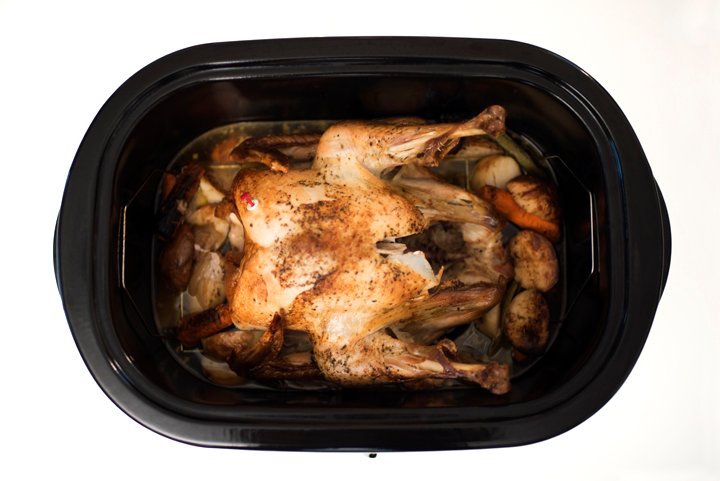 Creates the Most Flavorful Turkey, Every Time - No Basting Necessary
The real test is how your turkey, tastes, however, as all eyes will be on you when you bring it out to the table. A turkey's flavor comes down in large part to basting, which is when cooking-juices are distributed over the turkey at regular intervals to infuse moisture and flavor. Traditionally, however, this means having to repeatedly open the oven door to poke in and baste the turkey yourself. This method actually produces a less flavorful and drier turkey, since valuable hot air escapes from the oven every time the door is open, leading to an unevenly cooked finished product. Luckily, our Oster® Roaster Ovens with Self-Basting Lids are the solution, and you'll never have to baste again. Designed with a Self-Basting Lid that automatically bastes the turkey throughout the cooking cycle. You don't have to worry about setting timers to baste or letting hot air escape out the door. Instead, the process is taken care of for you, and you can rest easy knowing that your turkey will come out flavorful, moist and delicious.
For help with planning your holiday meal and selecting the right Oster® Roaster Oven for you, check out our cooking calculator. Just tell us the number of people you're having for dinner and we'll tell you the size turkey you need, how much stuffing to prepare, how long it'll take to defrost and the roasting time.
This holiday season, skip the efforts and frustrations of traditional cooking methods, and cook the perfect turkey stress-free with the Oster® line of Roaster Ovens.