4 Easy and Nutritious Make-Ahead Breakfasts for a Busy Week
Everyone knows that breakfast is the most important meal of the day, but sometimes it can be a real challenge to put together balanced, nutritious meals for yourself or your family. One great strategy to make sure that you start the day off on the right foot is making breakfast meals ahead of time. Instead of scrambling in the kitchen on a busy morning or grabbing an unhealthy breakfast on your commute, you can have good-for-you breakfasts waiting for you right in the fridge!
Best of all, putting together make-ahead breakfasts doesn't require spending hours in the kitchen. The Oster® Versa® Performance Blender with Food Processor and Blend-N-Go® Cups has everything you need to prepare great-tasting make-ahead breakfasts in no time at all.
Here are four easy and nutritious make-ahead breakfasts you can prepare for a busy week:
1. Blueberry Greek Yogurt Breakfast Muffins
A fruit- or chocolate-filled muffin may seem like just the thing to cure the chaos of a busy morning, but the high sugar levels found in most store-bought muffins will just cause you to ultimately crash. Instead, you can make a big batch of healthy breakfast muffins on the weekend to enjoy all through the week. Instead of using a large amount of butter, sugar and other not-so-good ingredients, these homemade muffins feature antioxidant-filled fresh blueberries, protein-rich Greek yogurt and heart-healthy oats.
Ingredients:
1 1/2 teaspoons baking powder
1 1/4 cups all-purpose flour
1/4 teaspoon salt
1/2 cup rolled oats
1/2 teaspoon cinnamon
1/4 teaspoon nutmeg
1 large egg
1/4 cup brown sugar
1/2 cup plain Greek yogurt
1 teaspoon vanilla extract
1 3/4 cups fresh blueberries
Directions
Heat oven to 375 degrees and grease a muffin tin. In a large bowl, mix together the baking powder, flour, salt, oats, cinnamon and nutmeg. Add the egg, brown sugar, Greek yogurt and vanilla extract to the Oster® Versa® Performance Blender and blend at medium speed until combined. Add mixture to the dry ingredients, followed by the blueberries, and mix together until batter is fully incorporated. Pour into muffin tins, filling 3/4 of the way full, then bake for 20-25 minutes or until tops are golden brown.
2.Up and at 'Em Energizing Smoothie
When it's rainy, chilly or overcast outside, it can be a real struggle to resist hitting snooze over and over again. To feel perked up for the day ahead, even on the grayest of mornings, you need this delicious Rise and Shine Energizing Smoothie. It's contains nutritious fruits, veggies and yogurts to get you up and at em' with a smile. Make several of these smoothies in your Oster® Versa® Performance Blender using the Blend-N-Go® Cups ahead of time. Then you can just grab a smoothie and go on busy mornings.
Ingredients:
1 cup fresh pineapple
1 apple, peeled, cored and quartered
3 large carrots, peeled
1 yellow bell pepper, seeds removed
1 tablespoon ground ginger
1/2 cup almond milk
1 cup plain Greek yogurt
Directions
Blend together all ingredients on medium speed in the Oster® Versa® Performance Blender using the Blend-N-Go® Cup. Repeat with the second Blend-N-Go® Cup and store them in the fridge for easy access during the week.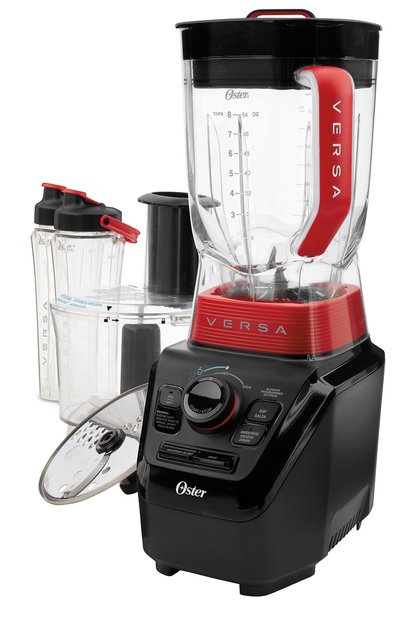 3. Perfect Overnight Oats
Oatmeal is a great breakfast because it's full of fiber and gives you the fuel you need to power through your day. Instead of rushing to cook oats in the morning, take a hands-off approach with overnight oats. Instant oats may seem like a good solution, but they often contain lots of sugar as well as artificial ingredients. This unbelievably easy method "cooks" the oats while you sleep, so you can wake up to a delicious, nutritious and filling breakfast.
Ingredients:
1 cup rolled oats
1/4 cup fresh strawberries, sliced
1/2 teaspoon honey
2 tablespoons sliced almonds
1 1/4 cups almond milk
Directions
Place oats in an air-tight container. Add the sliced strawberries, honey, sliced almonds and almond milk and stir to combine. Secure the lid to the container and place in the refrigerator and store overnight. Heat the oatmeal in a bowl or enjoy cold in the morning.
4. High-Powered Energy Bar Bites
The energy bar is the epitome of a grab-and-go breakfast - however, store-bought ones frequently contain lots of unhealthy ingredients and veer more toward a candy bar than a breakfast food! Instead, make your own energy bar bites at home. You can fill them with lots of good-for-you ingredients to fuel your day the right way. It's as easy as mixing up the bars in your Oster® Versa® Performance Blender, rolling them into balls and letting them set - no cooking required! Energy bar bites also keep well and are easy to transport, meaning that you can make a large batch of the bites ahead of time and then store them in an airtight bag or container to grab from throughout the week. This is just one recipe for energy bar bites - you can mix and match your favorite healthy ingredients, like dried fruit, nuts and seeds.
Ingredients:
2 cups rolled oats
2 tablespoons honey
1 cup peanut butter
3 tablespoons dark chocolate chips
1/4 cup dried cranberries
1/4 raisins
3 tablespoons chia seeds
Directions
Add all ingredients to your Oster® Versa® Performance Blender and blend on medium speed until combined. Roll the dough into 1-inch balls and place on a baking dish. Refrigerate for at least one hour to firm, then transfer to an airtight bag or container.