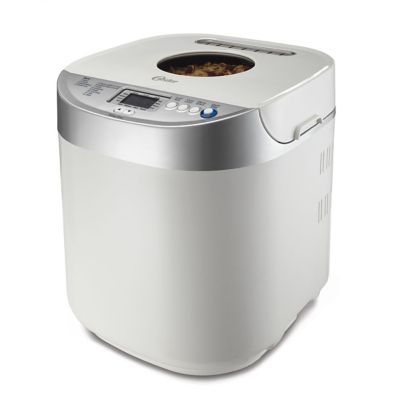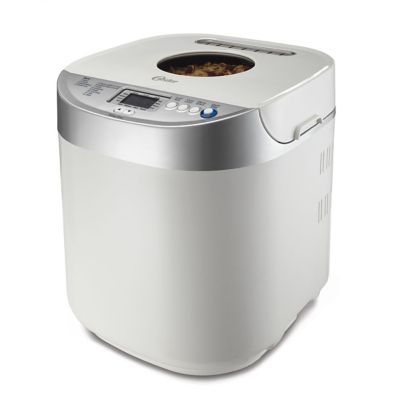 Final Sale: may not be returned or exchanged
Final Sale: may not be returned or exchanged
Product Details
Description
Fresh-baked bread is a favorite in every home, gently filling the air with an enticing aroma and satisfying everyone's taste buds. This electric bread maker bakes a 2-pound loaf in less than an hour with the EXPRESSBAKE® cycle. Use the 13-hour delay timer for customized bake time. With the Oster® brand, you can cook with passion and serve with pleasure.
2-pound loaf capacity
EXPRESSBAKE® cycle
Warm setting keeps loaf warm
8 bread settings
13-hour programmable delay baking timer
Specifications
Dimensions:

23.3" x W: 15.6" x H: 10.3"
Warranty
Limited 1 Year Warranty
Where to Buy
The following link will take you to a site outside of Oster.
Rated

5

out of

5
by
JaxRenegade
from
very happy with this machine.
i love this machine. i have had it 5 years now and it still works as well as it did the first day i bought it. i make at least three loaves a week with it. although it says it is a 2lb machine, i have found that the larger loaves do not come out as good as the 1lb loaves do. but as a single person, that is just fine. i have also found out that not all recipes will work. no matter how careful you are about measuring ingredients and such, they just will not work. so, don't be discouraged if one does not turn out. all in al this is a fantastic machine and i recommend it to anyone. when it needs replacing, i will replace it with the same model.
Date published: 2016-07-26
Rated

5

out of

5
by
Auntie Dee
from
Just like Grandmas kitchen
Bread is getting so expensive I decided to make my own, best decision I could have made. This machine is awesome I made a brioche bread from a recipe for the oven and OMG the first time out it was perfect, I thought a loaf would last a few days like the store bread not so, it was gone in 4 hours and I mean we're talking huge pieces of bread. Best bread I've had since my Grandma who was born in 1896 made us bread as kids and her kitchen smelled like a great big hug. So thanks Oster when my grandkids smell the bread they can feel the hug I'm giving them with fresh baked bread. Plus it's therapeutic (LOL). You're. Gonna have fun and no I don't work for Oster.
Date published: 2016-02-23
Rated

5

out of

5
by
Tony88
from
Good product
Bought one of these in 2007 and I'm still using it today (literally, got a loaf of Italian Herb bread going as I write this to go with a crock pot of beef vegi soup). Only problems I have ever had with this was my own doing. Not getting ingredient measurements right, not checking freshness of ingredients (or proper temp of water and or milk) and not watching the dough during 2nd kneading to check if too wet or dry. Good manual, with lots of info and plenty of recipes to get you started. Machine is easy to use and clean up. Controls/display easy to understand once you read through the manual and mess with it a little bit.
Date published: 2015-11-22
Rated

4

out of

5
by
Bigmommabird
from
Great for the price
I've had my Oster breadmaker for about 9 months now and in general, it works quite well. I use it several times a week and love the bread I make. The only negatives are that occasionally it does not stir the dough completely and I'll get small crunchy patches on the outside of the loaf that pull off. Also, I was disappointed that there were only two recipes in the manual for the Express Bake setting, and none for the Quick setting. On the whole, though, I'm quite satisfied and would definitely buy another if this one gave out.
Date published: 2014-09-29
Rated

4

out of

5
by
Ann C
from
Great value
I've had the machine for about a month. My husband and I are enjoying it so much! The only reason it doesn't get five stars is the fact that it doesn't stir the ingredients adequately in more complicated recipes. However, since the sourdough is our favorite, and it comes out perfectly every time, it's not really an issue. I would like to suggest that instead of adding active dry yeast for the sourdough, a loftier and crunchier top crust is achieved with quick-rising yeast. And I've substituted powdered buttermilk for powdered sweet milk in all of the recipes, because that's what I have on hand, and it works, and tastes great. I would like to know if it's possible to buy a replacement baking pan and stirring blade for this machine, since I'm sure eventually the Teflon will wear off? Thanks for a very good product at a reasonable price!
Date published: 2014-10-01
Rated

1

out of

5
by
Oldievonmoldie
from
Epic failure
The ingredients were placed according to the recipe in the manual. Milk temperature, egg at room temperature, quality bread flour, etc. and yes, the salt. Followed the instructions and pressed the appropriate buttons. Three and a half hours later the tone sounded and I excitedly opened the lid to find something from the special effects department from an alien movie. I had purchased this brand after using my mother's 10 year old Oster bread maker. There will be one more attempt before giving up completely. Fresh, quality ingredients are expensive and I can do better the old fashioned way (but was trying to take the "easy" way out).
Date published: 2021-11-19
Rated

4

out of

5
by
aesch
from
Works well. Bake time a little short.
This is my second Oster breadmaker. First was model 5838 that commited suicide (jumped off the counter!). I've had the BM-1 for 4 months. I have two suggestions> First is to remove the paddle after the last knead/shape cycle. For a basic 2# load, this occurs 1:35 into the cycle. Second is to check the loaf temperature after baking. I use a ThermoWorks RT600C thermometer to check subsurface temp as well as 2" into the loaf. I find that putting the loaf and pan into a 350F oven is needed to finish baking (190F).
Date published: 2020-03-17
Rated

1

out of

5
by
Dylan
from
Disappointed!!!!!!
I have had several bread machines over the years of different brands and as I have owned an Oster liquidiser for years without any problems I decided to buy one of your bread machines. However I am very disappointed in this Oster machine it would seem the bread is not cooking for long enough as the bread is still very pale even when I have it on the dark setting and comes out very soft and not nice and crusty. I have compared the cooking time with my previous machines and it seems the bread needs to cook for at least another 15-20minutes.
Date published: 2014-06-26
bvseo_sdk, dw_cartridge, 18.2.0, p_sdk_3.2.0
CLOUD, getReviews, 0ms
reviews, product
---
<!--begin-bvseo-questions--> <!--begin-questions--> <div id="bvseo-questionsSection"> <div class="bvseo-question-answer" data-questionid="3260837"> <h2 class="bvseo-question"> Where can I get a pan for this machine? </h2> <div class="bvseo-question-detail"> </div> <div class="bvseo-author">Asked by: Kayda</div> <div class="bvseo-answer" data-answerid="2590900"> Thank you for reaching out to Oster&amp;reg;. We appreciate your interest with our product. You can get the replacement pan, with part number 145846000000, in our partner retailers. Here is a list of our retail partners: Amazon, Walmart, Target, Bed, Bath &amp;amp; Beyond, Best Buy, Costco Wholesale, Meijer, Macy&#39;s, Kroger, Kohl&#39;s, Sam&#39;s Club and The Home Depot. ​Prices may vary by retail store. We hope this information helps you. Have a great day <div class="bvseo-author">Answered by: Oster Consumer Care</div> <div class="bvseo-pubdate">Date published: 2021-09-24</div> </div> </div> <div class="bvseo-question-answer" data-questionid="3035943"> <h2 class="bvseo-question"> I prefer to weigh ingredients on a scale as the results are more consistent. What weight standard does Oster go by for &amp;quot;bread flour&amp;quot; per recipes in the product manual? How many grams per cup? </h2> <div class="bvseo-question-detail"> </div> <div class="bvseo-author">Asked by: slofticus</div> <div class="bvseo-answer" data-answerid="2450472"> Thank you for contacting Oster&amp;reg;! We sincerely appreciate your support with our brand. Oster&amp;reg; recommends US Standard measurement, which is 128 grams per cup for Dry Goods, which is also applicable for bread flour.&#13;&#10;&#13;&#10;Hope this helps! <div class="bvseo-author">Answered by: Oster Consumer Care</div> <div class="bvseo-pubdate">Date published: 2021-07-31</div> </div> </div> <div class="bvseo-question-answer" data-questionid="2795431"> <h2 class="bvseo-question"> My Oster bread machine is about /0 years old. I love it. I need to download a copy of the recipe book that came with it. I&amp;rsquo;m not sure if you can help or not. My machine is One of the original ones I think. Is there anyway I can get this. Thank you </h2> <div class="bvseo-question-detail"> </div> <div class="bvseo-author">Asked by: Lisa03</div> <div class="bvseo-answer" data-answerid="2291958"> Thank you for reaching Oster&amp;reg; Brand. We understand that you wanted to get a manual for your bread maker. Don&#39;t worry! We are here to help. You can download the copy of manual via our website under &amp;quot;Instruction Manuals&amp;quot;. Have a good day! <div class="bvseo-author">Answered by: Oster Consumer Care</div> <div class="bvseo-pubdate">Date published: 2021-05-28</div> </div> </div> <div class="bvseo-question-answer" data-questionid="2679316"> <h2 class="bvseo-question"> Hi. I do NOT have a gluten free setting on my machine. Which setting do I use that has only one rise? Thanks! </h2> <div class="bvseo-question-detail"> </div> <div class="bvseo-author">Asked by: Melanie67000</div> <div class="bvseo-answer" data-answerid="2224814"> Thank you for reaching Oster&amp;reg; Brand. We understand that you wanted to know more about naking a gluten-free bread. Don&#39;t worry! We are here to help. &#13;&#10;&#13;&#10;If your bread machine does not have a gluten-free setting, you will want the setting that only has one mixing cycle (it&#39;s often the quick, rapid, rapid rise, one rise or basic feature). You can also override the pre-programmed settings for a 20-minute mix cycle, 1-hour rise cycle, and 1 hour-bake cycle. Hope this helps. <div class="bvseo-author">Answered by: Oster Consumer Care</div> <div class="bvseo-pubdate">Date published: 2021-07-09</div> </div> </div> <div class="bvseo-question-answer" data-questionid="2354065"> <h2 class="bvseo-question"> I use the dough function only...to then make cinnamon rolls. Lately, dough hardly raises, not even close to double in size. &amp;nbsp;I use sweet dough recipe. &amp;nbsp;No mention of heating water, although I do to 115-120 degrees to melt butter. &amp;nbsp;Help </h2> <div class="bvseo-question-detail"> </div> <div class="bvseo-author">Asked by: Sms70</div> <div class="bvseo-answer" data-answerid="2212330"> Thank you for reaching Oster&amp;reg; Brand. Thank you for taking the time to share your experience. Your feedback is important to us, and it helps us to continuously improve our products and services. Check if the yeast you rae using is too old. If it&#39;s new and the dough hasn&#39;t risen as much as you expect, just give it more time. Besides, a slower rise results in a more flavorful bread. Have a great day! <div class="bvseo-author">Answered by: Oster Consumer Care</div> <div class="bvseo-pubdate">Date published: 2021-04-21</div> </div> </div> <div class="bvseo-question-answer" data-questionid="2425856"> <h2 class="bvseo-question"> Pg 5 of the manual on list of ingredients you need it states Active fast rising yeast. So then I go to the Trad&#39;l White Bread 2# loaf and it states to use active dry yeast. Then on the expressbake use fast rising. I need to know what to buy. </h2> <div class="bvseo-question-detail"> </div> <div class="bvseo-author">Asked by: djmingus2001</div> <div class="bvseo-answer" data-answerid="2208485"> Thank you for reaching Oster&amp;reg; Brand. The type of yeast that you will use will be depending on the type of bread you will make. If you will use the expressbake setting, please use fast rising yeast. Have a great day! <div class="bvseo-author">Answered by: Oster Consumer Care</div> <div class="bvseo-pubdate">Date published: 2021-04-19</div> </div> </div> <div class="bvseo-question-answer" data-questionid="2427244"> <h2 class="bvseo-question"> how do i get the blade to stay on, it popped off into my dough </h2> <div class="bvseo-question-detail"> </div> <div class="bvseo-author">Asked by: chrisj</div> <div class="bvseo-answer" data-answerid="2208471"> Thank you for reaching Oster&amp;reg; Brand. Thank you for taking the time to share your experience. Your feedback is important to us, and it helps us to continuously improve our products and services. Be sure you are pushing the paddle all the way on. Have a great day! <div class="bvseo-author">Answered by: Oster Consumer Care</div> <div class="bvseo-pubdate">Date published: 2021-04-19</div> </div> </div> <div class="bvseo-question-answer" data-questionid="2462351"> <h2 class="bvseo-question"> I have an oyster 5858 bread machine. Is there an o-ring for the pin assembly that holds the paddle? The pin falls out of the basket. Nothing secures it . </h2> <div class="bvseo-question-detail"> </div> <div class="bvseo-author">Asked by: breadlover17</div> <div class="bvseo-answer" data-answerid="2200380"> Thank you for reaching Oster&amp;reg; Brand. To better assist you with your concern regarding the replacement gasket for your bread maker that you need, please contact us. We look forward to assisting you. Have a great day! <div class="bvseo-author">Answered by: Oster Consumer Care</div> <div class="bvseo-pubdate">Date published: 2021-04-15</div> </div> </div> </div> <script type="text/javascript"> if (document.getElementById('bvseo-questionsSection')) { document.getElementById('bvseo-questionsSection').style.display = 'none'; } </script> <!--end-questions--> <!--begin-pagination--> <ul id="bvseo-paginationSection"> <li class="bvseo-paginationItem"><a class="bvseo-paginationLink" href="https://www.oster.com/cooking/bread-makers/oster-2-lb.-bread-maker/SP_529362.html?bvrrp=Main_Site-en_US/questions/product/2/SP_529362.htm">Oster&reg; 2 lb. Bread Maker Questions - page 2</a></li> </ul> <!--end-pagination--> <ul id="BVSEO_meta" style="display:none!important"> <li data-bvseo="bvDateModified">y_2021, m_11, d_24, h_19CST</li> <li data-bvseo="ps">bvseo_bulk, prod_bvqa, vn_bulk_3.0.20</li> <li data-bvseo="cp">cp_1, bvpage1</li> <li data-bvseo="co">co_hasquestionsanswers, tq_512</li> <li data-bvseo="cf">loc_en_US, sid_SP_529362, prod, sort_[SortEntry(order=LAST_APPROVED_ANSWER_SUBMISSION_TIME, direction=DESCENDING)]</li> <li data-bvseo="diagnostics">clientName_oster</li> </ul> <!--end-bvseo-questions--> <ul id="BVSEOSDK_meta" style="display: none !important;"> <li data-bvseo="sdk">bvseo_sdk, dw_cartridge, 18.2.0, p_sdk_3.2.0</li> <li data-bvseo="sp_mt">CLOUD, getContent, 0ms</li> <li data-bvseo="ct_st">questions, product</li> </ul>
product-detail-view
oos-pdp