Oster® Double Tiered Food Steamer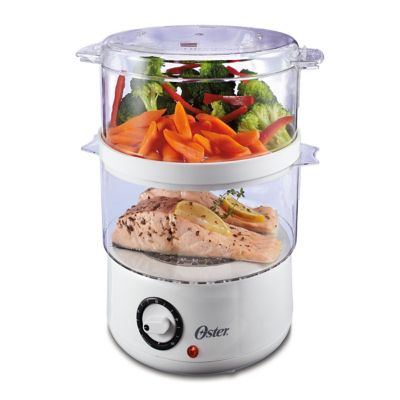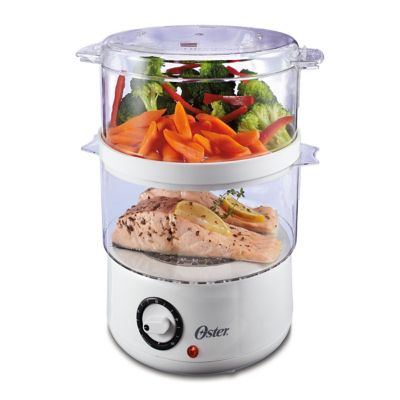 Oster® Double Tiered Food Steamer
Final Sale: may not be returned or exchanged
Final Sale: may not be returned or exchanged
Product Details
Description
Create healthy meals using steam cook method for low-fat food preparation. This double-tiered 5-quart manual control steamer is designed with 2 steaming bowls so you can prepare a complete meal quickly and easily. Enjoy a healthier lifestyle and feel good about the food you prepare. With the Oster® brand, you can cook with passion and serve with pleasure.
5-Quart Total Capacity steams meats, veggies, and more
60 Minute Auto-Off Timer shuts steamer off when done
Two Steam Bowls cook separate foods simultaneously
Boil Dry Protection shuts off with timer or when water is gone
Nesting Steam Bowls for compact storage
Where to Buy
The following link will take you to a site outside of Oster.
Rated

4

out of

5
by
Lisacfoster
from
Enjoying my steamer!
I've really enjoyed this steamer. It makes it easy to cook healthy meals. There are a few drawbacks but I will continue using it. The second time I used it I ended up with water all over my counter because I could not see the full line very well (it's white on white) and must've overfilled it. I haven't done it again now that I'm used to it. It can also be difficult to clean. Sometimes the base that holds the water gets dirty but the cord is attached so you can't immerse it in water. Also, sometimes food gets stuck in the holes in the plastic bowls. Otherwise, I am happy with this product. I received it free in exchange for this review.
Date published: 2016-08-22
Rated

3

out of

5
by
JaviAir
from
Great for single serve healthy meals.
The steamer is much larger than it appears, however it stores very compact. The overall size and dual steam chambers make it the ideal size for single serve meals. It is to small for family size meal preparation. I did find it slow to warm up and create steam in order to begin cooking the food. Some foods took longer than expected to cook. It seemed to work better for steaming vegetables, as meats and seafood (shellfish) took a long time to cook. Fish also left a smell in the steam chamber that took several cooking cycles to clear up. Steamed food tasted fresh. Overall it is a good product for healthy meal preparation if one is not in a hurry.
Date published: 2016-08-22
Rated

1

out of

5
by
disapointed1234
from
A big disapointment
I was a proud owner of a 5712 Steamer with a digital timer and when it finally gave up the ghost after 5 years of daily use I wanted to buy another Oster product. Oster's web site says the 5712 is no longer being made & suggested this model as a replacement. What a big disappointment. It's an inferior product in every way imaginable. Digital vs analog timer, OK :(. 5 vs 6 quart, ok I'll cut my food up into smaller sizes ... But what caused me to return it was the plastic taste of everything I cooked in it. The 5712 is still the gold standard, but I'm looking elsewhere to find its match.
Date published: 2016-09-01
Rated

5

out of

5
by
Carina
from
I love my steamer!
This little steamer has revolutionized my cooking! I put chicken, salmon, or other fish in the bottom bin and broccoli, cauliflower, carrots, zucchini, onions, portabella mushrooms and green peppers on the top.... sprinkle with my favorite spices and then go sit down and wait 30 minutes for dinner to be ready. Amazing! Delicious! Easy! Healthy! Great for the diet! What could be better??? I just want to know how to get an extra set of bins because I use it every day and it would be great to have one to use while the other is in the dishwasher. Any suggestions?
Date published: 2016-05-01
Rated

5

out of

5
by
shawnababy18
from
Perfect for meal preppers!
This was such a convenient and easy product! I am a fitness competition who does a lot of healthy meal prep, so this steamer can in so handy for my contest prep! I could cook my protein and my veggies in one step...I loved how functional and easy to use it was, although it took me a minute to figure out how everything worked when I first used it. The only thing I would change would be the compartment size, so I could cook more. But other than that the clean up was so easy and my chicken was moist and juicy and vegetables soft and tender. I was glad I was given this product as an opportunity to sample it because I enjoyed it very much!
Date published: 2016-08-29
Rated

2

out of

5
by
Steamer User
from
Not Recommended - Designed Well, But Low Power!
I am quite unhappy with this steamer. The wattage is too low. It sometimes takes as much as 10 minutes to provide steam, and the steam it provides is not abundant enough to cook efficiently. The maximum timer setting is 75 minutes. Which was not enough to cook four russet potatoes. I had to restart the timer for another cycle. Two hours plus to cook four potatoes! This is only using the first tier. I bought the steamer thinking it was "instant steam" like the old 4711/12 & 5711/12 Oster steamers, which I owned. Those were great. The produced huge amounts of steam, instantly. You could have cooked the four russets in those older models, in 20 minutes or less. This new steamer is NOTHING like the old steamers. Avoid this model.
Date published: 2016-02-15
Rated

5

out of

5
by
osterlover
from
makes healthy food
I bought this model 5711, several years back (the oval 2 tiered one) . makes fluffy Rice, healthy steamed vegetables etc. I would like to see a 3 tiered one .
Date published: 2016-01-07
Rated

4

out of

5
by
Sarah1129
from
Easy to use and clean up
I was excited to try the Oster Double Tiered Food Steamer. I thought this was a good product to prepare healthy side dishes. It was a little smaller than I expected so I had to cut up the vegetables a bit to make it work, but overall I was pleased. It is very easy to use. I had never used a steamer like this and it was not difficult. As far as convenience goes, this was perfect for our family. I was able to steam vegetables without worry while preparing the rest of the meal. My biggest complaint about this product is that it isn't able to steam rice. We eat a lot of rice in our house and being able to use the steamer to also steam rice would be very helpful. Finally, this product is dishwasher safe and that it a lifesaver! I received and tested this product for free but that did not influence my review.
Date published: 2016-08-16
bvseo_sdk, dw_cartridge, 18.2.0, p_sdk_3.2.0
CLOUD, getReviews, 0ms
reviews, product
---
<!--begin-bvseo-questions--> <!--begin-questions--> <div id="bvseo-questionsSection"> <div class="bvseo-question-answer" data-questionid="2457607"> <h2 class="bvseo-question"> How many eggs, within their shells, can you place in this steamer to achieve either soft or hard steamed eggs? What do you set the timer to for soft steamed eggs? What do you set the timer for hard steamed eggs? </h2> <div class="bvseo-question-detail"> </div> <div class="bvseo-author">Asked by: Siegmund</div> <div class="bvseo-answer" data-answerid="2207037"> Thank you for reaching Oster&amp;reg; Brand. You may put eggs as they can still fit in with the steamer. Add eggs to steamer basket, cover, and continue cooking, 6 minutes for soft-steamed eggs or 12 minutes for hard-steamed. Have a great day! <div class="bvseo-author">Answered by: Oster Consumer Care</div> <div class="bvseo-pubdate">Date published: 2021-04-19</div> </div> </div> <div class="bvseo-question-answer" data-questionid="2457621"> <h2 class="bvseo-question"> Can you double stack eggs in the single bottom basket for either hard or soft steamed eggs? If yes, for double stacked eggs, how long do you steam the eggs to achieve hard steamed eggs and how long for soft steamed eggs? </h2> <div class="bvseo-question-detail"> </div> <div class="bvseo-author">Asked by: Siegmund</div> <div class="bvseo-answer" data-answerid="2203271"> Thank you for reaching Oster&amp;reg; Brand. We do not recommend double-stacking. Set your timer for 6 minutes for soft boiled, 10 minutes for hard steamed with a still translucent and bright yolk, or 12-15 steamed for cooked-through hard steamed. Have a great day! <div class="bvseo-author">Answered by: Oster Consumer Care</div> <div class="bvseo-pubdate">Date published: 2021-04-16</div> </div> </div> <div class="bvseo-question-answer" data-questionid="2351406"> <h2 class="bvseo-question"> I DID NOT RECEIVE INSTRUCTION WITH THIS STEAMER,. HOW DO I FIND INSTRUCTIONS FOR OPERATING THIS STEAMER? </h2> <div class="bvseo-question-detail"> </div> <div class="bvseo-author">Asked by: CHATA</div> <div class="bvseo-answer" data-answerid="2032903"> Thanks for reaching out to us. You may find the manual for this steamer by going to this model&#39;s page on our website. Under &amp;quot;Service &amp;amp; Support&amp;quot; you should see a link redirecting you to a pdf manual page. <div class="bvseo-author">Answered by: Oster Consumer Care</div> <div class="bvseo-pubdate">Date published: 2021-02-25</div> </div> </div> <div class="bvseo-question-answer" data-questionid="2336774"> <h2 class="bvseo-question"> I have an older food steamer(model 5711) that I actually never used. I was just wondering if the plastic is BPA free? the P.N. 11158(rev.A) if that helps. Thank you </h2> <div class="bvseo-question-detail"> </div> <div class="bvseo-author">Asked by: Lkim</div> <div class="bvseo-answer" data-answerid="2025558"> Hey there! Thanks for reaching us out. Most of our new models for Oster&amp;reg; Food Steamer are BPA Free. <div class="bvseo-author">Answered by: Oster Consumer Care</div> <div class="bvseo-pubdate">Date published: 2021-08-04</div> </div> </div> <div class="bvseo-question-answer" data-questionid="2325223"> <h2 class="bvseo-question"> I just received this product today. upon reading the user guide booklet, I noticed a 1page insert that says:&amp;rdquo;This product contains a chemical known to the state of California to cause birth defects or other reproductive harm&amp;rdquo;.which part of the product? </h2> <div class="bvseo-question-detail"> </div> <div class="bvseo-author">Asked by: Len84</div> <div class="bvseo-answer" data-answerid="2016349"> ey there! Thanks for reaching us out. Per our standard practice, all the plastic materials is BPA free and FDA compliant. Oster&amp;reg; tests for lead and other toxic materials on its products to ensure they are safe for consumers. In addition, we periodically use accredited third party lab testing to reveal that our products are far below the U.S. FDA and California Regulation Prop 65 requirements for extractable lead and cadmium in ceramic wares, thus supporting our results. Hope this helps. Have a great day! <div class="bvseo-author">Answered by: Oster Consumer Care</div> <div class="bvseo-pubdate">Date published: 2020-10-20</div> </div> </div> <div class="bvseo-question-answer" data-questionid="2323707"> <h2 class="bvseo-question"> Is it possible to only use one basket, it is just the two of us now and we don&#39;t need to cook that much food but we are looking for a replacement for an old B&amp;amp;D unit which has died </h2> <div class="bvseo-question-detail"> </div> <div class="bvseo-author">Asked by: Greg277</div> <div class="bvseo-answer" data-answerid="2016085"> Hey there! Thanks for reaching us out. Yes, you can use a Single Tier Steamer only by placing the lower bowl on base. Hope this helps! <div class="bvseo-author">Answered by: Oster Consumer Care</div> <div class="bvseo-pubdate">Date published: 2020-10-20</div> </div> </div> <div class="bvseo-question-answer" data-questionid="2318529"> <h2 class="bvseo-question"> I&#39;m having trouble &amp;quot;separating&amp;quot; the 2 steam bowls from each other after food has been cooked. In other words, they are STICKING together and I&#39;m having to pry them apart. It&#39;s a problem and a mess. Ideas ? and is this &amp;quot;Certified&amp;quot; BPA free ? </h2> <div class="bvseo-question-detail"> </div> <div class="bvseo-author">Asked by: Anonymous</div> <div class="bvseo-answer" data-answerid="2014276"> Oh no! That is definitely not the kind of experience that we want you to have. Our food steamers were made with the highest quality and complete materials and we expect them to last. We aim to provide great quality products and we&#39;d like for you to be completely satisfied with your purchase and get the product&#39;s full benefit. Allow the unit to cool completely for 5-10 minutes before you remove the 2 steaming bowls to each other so that you can easily remove them after the cooking process. Yes, the Oster&amp;reg; Double Tiered Food Steamer is BPA free. Hope this helps! <div class="bvseo-author">Answered by: Oster Consumer Care</div> <div class="bvseo-pubdate">Date published: 2020-10-19</div> </div> </div> <div class="bvseo-question-answer" data-questionid="2312935"> <h2 class="bvseo-question"> Where can I purchase this </h2> <div class="bvseo-question-detail"> </div> <div class="bvseo-author">Asked by: Kam1</div> <div class="bvseo-answer" data-answerid="2006270"> Oster is committed to giving our consumers an exceptional shopping experience both online and in stores. As we pursue new pathways to bring our products directly to you, we are relying on our retail partners to offer you the best of Oster products.&#13;&#10;&#13;&#10;Amazon&#13;&#10;Walmart&#13;&#10;Target&#13;&#10;Bed, Bath &amp;amp; Beyond&#13;&#10;Best Buy&#13;&#10;Costco Wholesale&#13;&#10;Meijer&#13;&#10;Macy&#39;s&#13;&#10;Kroger&#13;&#10;Kohl&#39;s&#13;&#10;Sam&#39;s Club&#13;&#10;The Home Depot&#13;&#10;&#13;&#10;Hope this helps! <div class="bvseo-author">Answered by: Oster Consumer Care</div> <div class="bvseo-pubdate">Date published: 2020-10-12</div> </div> </div> </div> <script type="text/javascript"> if (document.getElementById('bvseo-questionsSection')) { document.getElementById('bvseo-questionsSection').style.display = 'none'; } </script> <!--end-questions--> <!--begin-pagination--> <ul id="bvseo-paginationSection"> <li class="bvseo-paginationItem"><a class="bvseo-paginationLink" href="https://www.oster.com/cooking/steamers/oster-double-tiered-food-steamer/SP_463436.html?bvrrp=Main_Site-en_US/questions/product/2/SP_463436.htm">Oster&reg; Double Tiered Food Steamer Questions - page 2</a></li> </ul> <!--end-pagination--> <ul id="BVSEO_meta" style="display:none!important"> <li data-bvseo="bvDateModified">y_2022, m_1, d_23, h_20CST</li> <li data-bvseo="ps">bvseo_bulk, prod_bvqa, vn_bulk_3.0.20</li> <li data-bvseo="cp">cp_1, bvpage1</li> <li data-bvseo="co">co_hasquestionsanswers, tq_131</li> <li data-bvseo="cf">loc_en_US, sid_SP_463436, prod, sort_[SortEntry(order=LAST_APPROVED_ANSWER_SUBMISSION_TIME, direction=DESCENDING)]</li> <li data-bvseo="diagnostics">clientName_oster</li> </ul> <!--end-bvseo-questions--> <ul id="BVSEOSDK_meta" style="display: none !important;"> <li data-bvseo="sdk">bvseo_sdk, dw_cartridge, 18.2.0, p_sdk_3.2.0</li> <li data-bvseo="sp_mt">CLOUD, getContent, 0ms</li> <li data-bvseo="ct_st">questions, product</li> </ul>
product-detail-view
oos-pdp