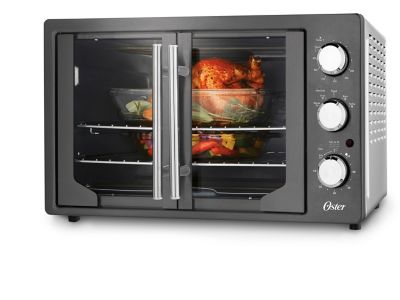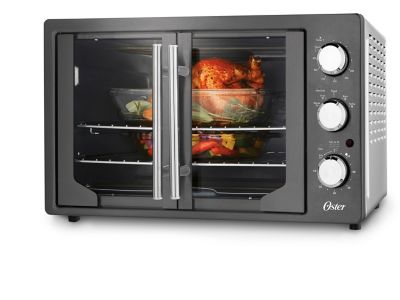 Final Sale: may not be returned or exchanged
Final Sale: may not be returned or exchanged
Product Details
Description
Voilà, dinner's done! The Oster® French Door Oven looks elegant, cooks with convection and makes meal prep easier. Unique design opens both doors open with a single pull so you can place dishes in the oven without hassle. Adjustable temperature and cook controls provide ease and convenience to bake, toast, broil, warm and convection cook with simple adjustments. Plus, broiling setting adjusts to broil at any temperature to reduce overcooking or undercooking. There's no reason to turn up the heat with your conventional oven, as the Oster® French Door Oven cooks more efficiently, using up to 50% less energy, plus its extra large interior provides plenty of space to prepare full meals. Set the 60-minute timer to cook foods as long as you need, then the oven shuts off automatically. With a countertop oven this attractive, this efficient and this easy to use, you'll enjoying using it for every meal you prepare!
Single door pull opens both doors with one hand ease and convenience
Turbo Convection baking technology cooks faster and browns more evenly
Two racks provide maximum cooking flexibility
Extra-Large capacity fits two large take and bake pizzas
60-minute timer with signal turns oven off automatically
Durable baking pan and baking rack used together can double as a broiling pan
Specifications
Dimensions:

12.9" x 21.7" x 18.6" (H x W x D)
Warranty
1 Year Limited Warranty
Where to Buy
The following link will take you to a site outside of Oster.
Rated

3

out of

5
by
Pengylady
from
Great for a year....now having issues
Got this Christmas of 2019....this oven is used EVERY SINGLE DAY and has been great.....until about a month ago. It started taking longer then normal cooking times. I bought an over thermometer and discovered that no matter what function and temp setting combination I use it struggles to get above 350 and then cycles down to about 250 before turning back on. Since neither element has ever gotten bright bright red it's hard to tell which one, or maybe both, are not functioning properly. Very disappointed as like I said this is our daily oven....now I have to go on the hunt for a replacement and that does not make me happy!!
Date published: 2021-03-02
Rated

5

out of

5
by
Sue75
from
Just right for easy, clean cook
I got this for my birthday in November. I have used it instead of my oven at least 4X a week. I've made chicken strips, roasted brussel sprouts, baked cookies and cornbread muffins to name a few. My only suggestion is that it would be nice to have a cookbook that includes convection cooking.
Date published: 2020-12-18
Rated

3

out of

5
by
Lisasky111
from
Broiler does not work right
Just bought this yesturday and trying to broil 2 steaks...neither of the elements are getting red...it says the top one will cycle on and off red but never went red thru whole process...it just basically baked the steaks. Not so happy right off the bat!!
Date published: 2020-12-13
Rated

4

out of

5
by
Bill T
from
Top broiler unit doesn't work, never did.
I read several reviews regarding the top broiler unit problems. I bought one fromWalmart, unit didn't work so I took it back to get another. It didn't work either but being ignorant to the whole thing, I figured I was the mistaken one. After reading these reviews, I find that it is the oven all along. Unfortunately, I bought this a while ago and have no receipt, it's well used and I'm sure I have no recourse. But to anyone who may be interested in this product, beware of the broiler setting. I did give it four stars because I like the unit for other settings, but definitely not the broiler.
Date published: 2021-03-22
Rated

1

out of

5
by
Jus tme
from
Good Idea, poor construction
The French door idea is great except the huge gap between the doors lets so much heat escape so the oven is constantly pre-heating. Another problem is trying to open the doors without potholders. Because of the gap and heat, the handles are very hot. After trying to cook chicken, still raw after 30 minutes.
Date published: 2021-06-26
Rated

2

out of

5
by
Mrs Smith
from
Does not broil
I've had my oven for about one year. It works just ok. It's one of the lower quality toaster ovens I have owned. It doesn't maintain heat. My cooking times have to be extended anywhere from 15-30 minutes longer, depending on what I am making. My last loaf of sourdough bread didn't bake, even with an extra 20 minutes on the time. I had to throw it out. It seems that one year in, it's become extremely undependable and I need to replace it. As other reviews have stated, the broiler feature has never worked. And that's a feature I depend upon. I cannot recommend this oven.
Date published: 2021-11-08
Rated

3

out of

5
by
pudge
from
MODEL TSSTTVFDXL- FRENCH DOOR OVEN
TOP ELEMENT DOES NOT GET RED, NOT SURE IF THIS IS WORKING PROPERLY, IT COOKS BUT DOES NOT GET RED. BOTTOM ELEMNENT GETS RED. TRIED CALLING COMPANY, CANNOT GET THROUGH. SENT E-MAIL A WEEK AGO, HAVE NOT HEARD FROM COMPANY.
Date published: 2020-12-01
Rated

1

out of

5
by
Kim0528
from
Disgusted
We had an old Oster toaster oven that we had had for four years and it worked wonderful. Age started to set in and we decided to get another Oster. I wish I had kept my old one I am thoroughly disgusted by this new French door Oster toaster oven and should have looked at the reviews before I purchased it. The amount of heat that escapes through the French doors is enormous! It cooks uneven and the knobs are functionally obsolescent. If I have the opportunity to return us after having it for about 30 days I would jump on it and then buy any other brand but Oster!
Date published: 2021-08-20
bvseo_sdk, dw_cartridge, 18.2.0, p_sdk_3.2.0
CLOUD, getReviews, 0ms
reviews, product
---
<!--begin-bvseo-questions--> <!--begin-questions--> <div id="bvseo-questionsSection"> <div class="bvseo-question-answer" data-questionid="3452845"> <h2 class="bvseo-question"> Are the French doors supposed to seal tight or slightly open in the middles? </h2> <div class="bvseo-question-detail"> </div> <div class="bvseo-author">Asked by: Mosh</div> <div class="bvseo-answer" data-answerid="2711086"> Thanks for contacting Oster&amp;reg;! We appreciate the opportunity to respond to your inquiry and your interest with our products.&#13;&#10;&#13;&#10;The doors of this toaster oven as supposed to have a gap in the middle. The gap between the door allows airflow between the inner and outer door panels. The flow of air prevents the outer door panel from becoming too hot.&#13;&#10;&#13;&#10;Hope this helps! Have a nice day! <div class="bvseo-author">Answered by: Oster Consumer Care</div> <div class="bvseo-pubdate">Date published: 2021-11-04</div> </div> </div> <div class="bvseo-question-answer" data-questionid="3386953"> <h2 class="bvseo-question"> where can i get racks for this oven? </h2> <div class="bvseo-question-detail"> </div> <div class="bvseo-author">Asked by: ronv</div> <div class="bvseo-answer" data-answerid="2666855"> Thank you for contacting Oster&amp;reg;! We value your continued support of our products and we&amp;rsquo;d be glad to answer your inquiry.&#13;&#10;&#13;&#10;Here is a list of our partners where you can shop our products online including replacement parts: ereplacementparts.com, Amazon, Walmart, Target, Bed, Bath &amp;amp; Beyond, Best Buy, Costco Wholesale, Meijer, Macy&#39;s, Kroger, Kohl&#39;s, Sam&#39;s Club and The Home Depot. ​&#13;&#10;&#13;&#10;For your reference, part number for the rack that fits this Toaster Oven model is 131643000000. &#13;&#10;&#13;&#10;Please be advised that prices may vary, and we cannot guarantee the availability of all our products since stock levels may change rapidly.&#13;&#10;&#13;&#10;We hope this helps! <div class="bvseo-author">Answered by: Oster Consumer Care</div> <div class="bvseo-pubdate">Date published: 2021-10-21</div> </div> </div> <div class="bvseo-question-answer" data-questionid="3082472"> <h2 class="bvseo-question"> My cord is broken. Is there a way to replace it? </h2> <div class="bvseo-question-detail"> </div> <div class="bvseo-author">Asked by: CMC1</div> <div class="bvseo-answer" data-answerid="2485338"> Thank you for reaching out to Oster&amp;reg;. We are sorry to hear that your oven&#39;s cord is broken. That is definitely not the kind of experience that we want you to have. No worries, we are here to help. Your oven has a year limited warranty so we&#39;d like to kindly request that you contact us directly in order to help you get to the best resolution. Have a good day! <div class="bvseo-author">Answered by: Oster Consumer Care</div> <div class="bvseo-pubdate">Date published: 2021-08-12</div> </div> </div> <div class="bvseo-question-answer" data-questionid="2990749"> <h2 class="bvseo-question"> What are the interior dimensions? </h2> <div class="bvseo-question-detail"> </div> <div class="bvseo-author">Asked by: Kimmmm</div> <div class="bvseo-answer" data-answerid="2424123"> Thank you for reaching out to Oster&amp;reg;. We appreciate your interest in our product. The interior dimension of this Digital French Door Air Fry Oven is 12.9&amp;quot; H x 21.7&amp;quot; W x 18.6&amp;quot; D. Hope this helps and have a nice day! <div class="bvseo-author">Answered by: Oster Consumer Care</div> <div class="bvseo-pubdate">Date published: 2021-08-18</div> </div> </div> <div class="bvseo-question-answer" data-questionid="2990774"> <h2 class="bvseo-question"> When and where will this be available? I&#39;d like to upgrade my Oster XL digital convection oven (that I absolute LOVE btw) </h2> <div class="bvseo-question-detail"> </div> <div class="bvseo-author">Asked by: Kimmmm</div> <div class="bvseo-answer" data-answerid="2419903"> Thank you for contacting Oster&amp;reg;! We sincerely appreciate your support with our products. All our products, including parts and accessories can be purchased from our retail partners: ereplacementparts.com, Bed, Bath &amp;amp; Beyond, Kohl&#39;s, Macy&#39;s, Amazon, Target, Walmart, Meijer, QVC, Costco, Kroger, The Home Depot, BestBuy, and Sam&#39;s Club. Prices and availability may vary depending on the retail store.&#13;&#10;&#13;&#10;For further assistance, we&#39;d like to kindly request that you contact us directly.&#13;&#10;&#13;&#10;We hope this helps! <div class="bvseo-author">Answered by: Oster Consumer Care</div> <div class="bvseo-pubdate">Date published: 2021-07-19</div> </div> </div> <div class="bvseo-question-answer" data-questionid="2838633"> <h2 class="bvseo-question"> Will a 10# bone-in ham fit in this unit? Thank you </h2> <div class="bvseo-question-detail"> </div> <div class="bvseo-author">Asked by: DawnDea</div> <div class="bvseo-answer" data-answerid="2337328"> Hi! Thanks for reaching out Oster&amp;reg;. We appreciate your interest with our product. Yes, a 10 pounds bone-in-ham fits in this Oster&amp;reg; French Door Oven as it has an extra large interior which provides plenty of space to prepare meals. Hope this helps! <div class="bvseo-author">Answered by: Oster Consumer Care</div> <div class="bvseo-pubdate">Date published: 2021-06-16</div> </div> </div> <div class="bvseo-question-answer" data-questionid="2847077"> <h2 class="bvseo-question"> Can this be used for proofing? </h2> <div class="bvseo-question-detail"> </div> <div class="bvseo-author">Asked by: Jacquot</div> <div class="bvseo-answer" data-answerid="2337165"> Hi! Thanks for reaching out Oster&amp;reg;. We appreciate your interest with our product. In regards to this, you can do proofing with our Oster&amp;reg; French Door Oven as long as you follow the correct steps for it. Hope this helps! <div class="bvseo-author">Answered by: Oster Consumer Care</div> <div class="bvseo-pubdate">Date published: 2021-06-16</div> </div> </div> <div class="bvseo-question-answer" data-questionid="2795794"> <h2 class="bvseo-question"> What is the lowest oven temp this oven can do? [need for dehydrating &amp;amp; fermenting]&#13;&#10;Is there a model that comes with a steam capability? </h2> <div class="bvseo-question-detail"> </div> <div class="bvseo-author">Asked by: Chim</div> <div class="bvseo-answer" data-answerid="2291937"> Thank you for reaching Oster&amp;reg; Brand. The lowest oven temperature ranges from 130 Degrees F to 180 Degrees F. Dehydrating at 125&amp;deg;F will result in a more evenly dehydrated end product, while setting the temp to 140&amp;deg;F will make everything go a bit faster. Have a good day! <div class="bvseo-author">Answered by: Oster Consumer Care</div> <div class="bvseo-pubdate">Date published: 2021-06-14</div> </div> </div> </div> <script type="text/javascript"> if (document.getElementById('bvseo-questionsSection')) { document.getElementById('bvseo-questionsSection').style.display = 'none'; } </script> <!--end-questions--> <!--begin-pagination--> <ul id="bvseo-paginationSection"> <li class="bvseo-paginationItem"><a class="bvseo-paginationLink" href="https://www.oster.com/food-appliances/kitchen-appliances/countertop-ovens/oster-french-door-oven/SP_461913.html?bvrrp=Main_Site-en_US/questions/product/2/SP_461913.htm">Oster&reg; French Door Oven Questions - page 2</a></li> </ul> <!--end-pagination--> <ul id="BVSEO_meta" style="display:none!important"> <li data-bvseo="bvDateModified">y_2021, m_11, d_25, h_18CST</li> <li data-bvseo="ps">bvseo_bulk, prod_bvqa, vn_bulk_3.0.20</li> <li data-bvseo="cp">cp_1, bvpage1</li> <li data-bvseo="co">co_hasquestionsanswers, tq_25</li> <li data-bvseo="cf">loc_en_US, sid_SP_461913, prod, sort_[SortEntry(order=LAST_APPROVED_ANSWER_SUBMISSION_TIME, direction=DESCENDING)]</li> <li data-bvseo="diagnostics">clientName_oster</li> </ul> <!--end-bvseo-questions--> <ul id="BVSEOSDK_meta" style="display: none !important;"> <li data-bvseo="sdk">bvseo_sdk, dw_cartridge, 18.2.0, p_sdk_3.2.0</li> <li data-bvseo="sp_mt">CLOUD, getContent, 0ms</li> <li data-bvseo="ct_st">questions, product</li> </ul>
product-detail-view
oos-pdp