Oster® 270-Watt Hand Mixer with HEATSOFT Technology - Storage Case Included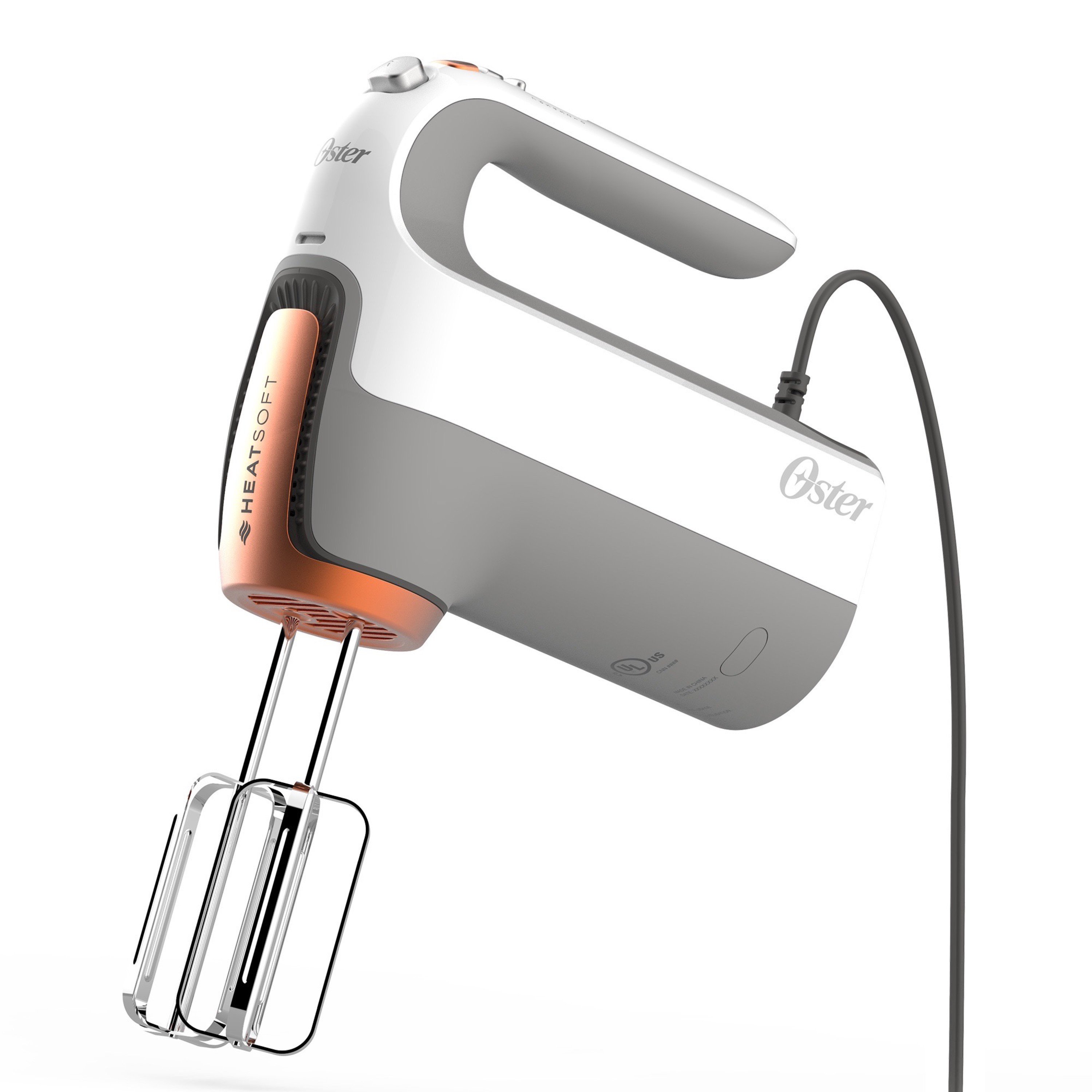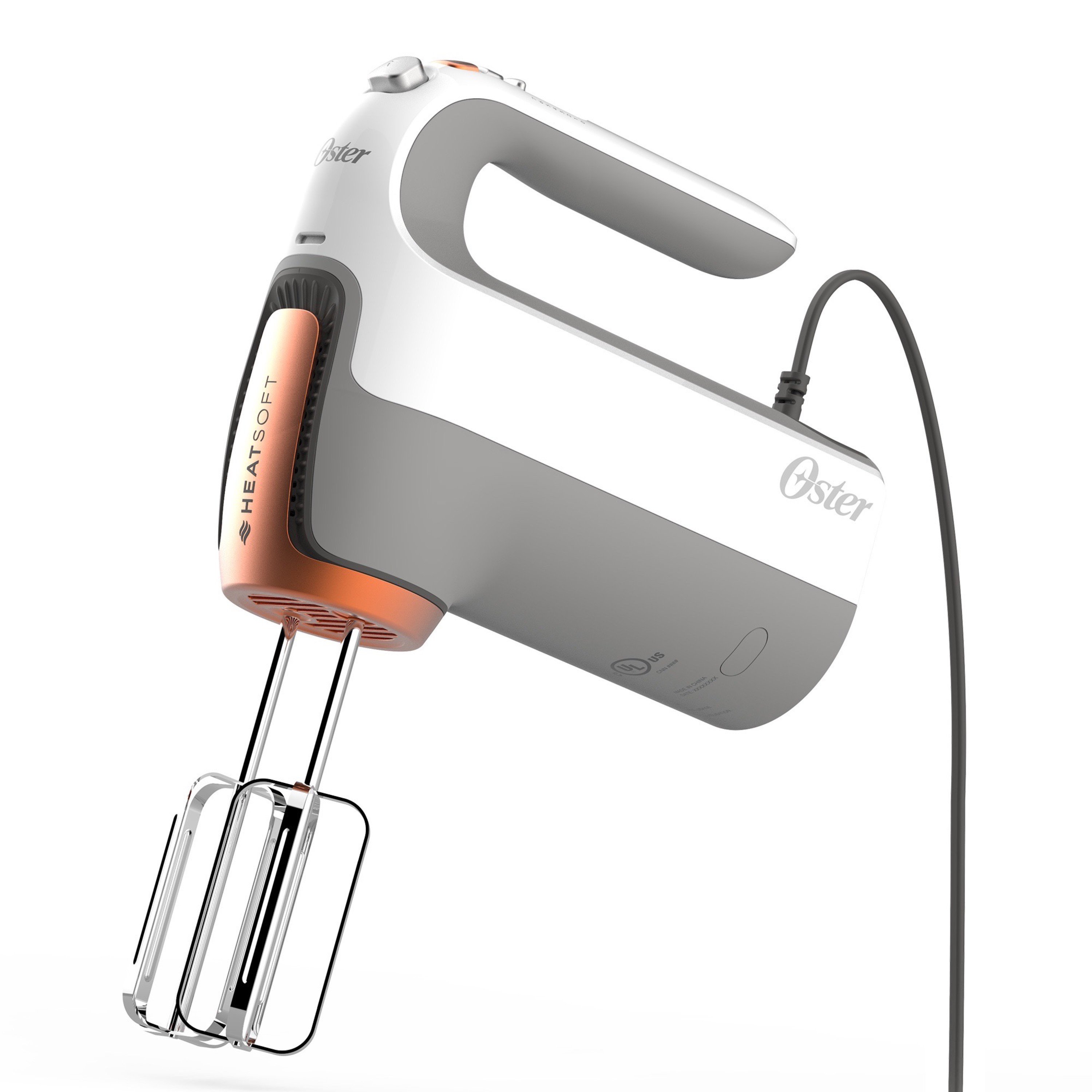 Oster® 270-Watt Hand Mixer with HEATSOFT Technology - Storage Case Included
Final Sale: may not be returned or exchanged
Final Sale: may not be returned or exchanged
Product Details
Description
No more waiting for ingredients to reach room temperature before baking. This Oster hand mixer with HeatSoft technology uses gentle heat to bring cold butter and other ingredients to room temperature while mixing, for fluffier results than mixing with non-room temperature ingredients. This electric mixer features a powerful 270-watt motor and 7 speeds, plus full-size beaters. The one-touch burst of power setting comes in handy for an extra power boost at the touch of a button. Bake and mix all your favorite foods at a moment's notice; when you're done, eject the beaters from the hand mixer with one button for easy cleanup. The removable magnetic nozzle as well as the beaters are dishwasher-safe.
Hand mixer blows warming heat as it mixes, bringing baking ingredients right up to room temperature; you can bake at a moment's notice without waiting for ingredients to warm up
Handheld mixer offers maximum versatility with durable full-size beaters and a storage case
Electric mixer offers a one-touch burst of power for an extra boost at the touch of a button
Convenient one-touch beater eject lever
Removable magnetic nozzle that's dishwasher safe for easy cleaning
Plastic storage case
Specifications
Power Source:

Polarized Plug
Care & Maintenance
Turn the appliance OFF, then uplug from outlet when not in use, before putting on or taking off parts, and before cleaning
THIS PRODUCT IS FOR HOUSEHOLD USE ONLY
Product Warnings
Read all instructions before using this product.
Warranty
1 Year Limited Warranty
Where to Buy
The following link will take you to a site outside of Oster.
Rated

1

out of

5
by
jworley
from
Don't recommend for the price
Bought this about 6 months ago and this mixer has been a pain. The beaters you have to jam into the machine and try not to hurt yourself in the process. The lowest speed is very high and the noise is extremely loud. Was trying to mix cookie dough and the mixer rotates counter clockwise which causes the dough to get stuck between the beaters and doesn't mix anything. Tried with multiple doughs and same result. The beaters sometimes will come out during mixing and just is not functional. I bought a $15 mixer from Walmart that was better and lasted years. The only good thing is the heater that works nicely.
Date published: 2020-12-17
Rated

1

out of

5
by
Cynthia88
from
VERY DIFFICULT TO USE
I bought this hand mixer and I am so SORRY I did. The beaters are so difficult to insert that I have bruised and injured my hand. Every time I insert the beaters I have to jiggle and pound it in with my hand, sometimes one of the beaters will not insert into the mixer so I just mix with one beater. I am very frustrated with this mixer. I hate it. Also this mixer has 7 speeds, that's nice but the slowest speed is so fast it's like a tornado in the mixing bowl, not very useful.
Date published: 2020-06-01
Rated

2

out of

5
by
BakerJay
from
Works OK if you get past the NOISE!
I bought this a little while ago. I used it once and was overwhelmed by the noise. Other reviews said the noise wasn't that bad. I honestly thought that the mixer was broken. The higher the speed, the louder it gets. I don't think a mixer is supposed to sound like this one.
Date published: 2020-11-24
Rated

1

out of

5
by
Franikan
from
Poor design
I purchased this mixer and had to have it replaced because the mechanism that holds the beaters inside the mixer broke and the beater would not stay in. The exact same thing happened in the product I received as a replacement. The beaters will not stay in.
Date published: 2020-12-07
Rated

2

out of

5
by
Missie77
from
No longer works after being used a hand full of ti
I bought this mixer about 10 months ago. Was mixing cookies the other day and the beaters stopped turning. So disappointed. I'm guessing the piece that holds the beaters is broken which is why the beaters no long turn.
Date published: 2020-12-08
Rated

1

out of

5
by
CCB1
from
Do not buy
I purchased the item and gor it about 6 months ago and it broke. The manufacture will not replace it because of a date stamp code from 2018. They sold me a old mixer O guess.
Date published: 2021-02-26
Rated

3

out of

5
by
youwho
from
noisy and beaters jamb
got this mixer last year for christmas, worked ok for awhile then beaters would jamb. now i'm lucky if i can do egg whites.
Date published: 2020-12-16
Rated

1

out of

5
by
Frequent baker
from
Poorly made mixer - do not recommend
I wanted a lightweight, reliable hand mixer for basic tasks (cake mixes, etc.) I am thoroughly disappointed. The beaters are almost impossible to insert, even light batters climb up the beaters, there is no guard to protect batter that climbs up the beaters from getting into the casing. The motor is extremely loud for lightweight use, and feels very rattly. I am extremely disappointed in this purchase.
Date published: 2021-02-13
bvseo_sdk, dw_cartridge, 18.2.0, p_sdk_3.2.0
CLOUD, getReviews, 0ms
reviews, product
---
<!--begin-bvseo-questions--> <!--begin-questions--> <div id="bvseo-questionsSection"> <div class="bvseo-question-answer" data-questionid="2727848"> <h2 class="bvseo-question"> where can i purchase the mixer acessories i misplaced mine </h2> <div class="bvseo-question-detail"> </div> <div class="bvseo-author">Asked by: April h</div> <div class="bvseo-answer" data-answerid="2249592"> Thank you for contacting Oster&amp;reg;! We&#39;re glad you&#39;ve asked. You can purchase Oster products and parts at any of our partner retailers. You may find this complete list of our online and in-store authorized retailers: Amazon, Walmart, Target, Bed, Bath &amp;amp; Beyond, Best Buy, Costco Wholesale, Meijer, Macy&#39;s, Kroger, Kohl&#39;s, Sam&#39;s Club and The Home Depot. We hope this helps! <div class="bvseo-author">Answered by: Oster Consumer Care</div> <div class="bvseo-pubdate">Date published: 2021-05-10</div> </div> </div> <div class="bvseo-question-answer" data-questionid="2439331"> <h2 class="bvseo-question"> I just turned on my hand mixer for the first time. When I hit the heat button, it started to smoke. I am assuming this is not normal? </h2> <div class="bvseo-question-detail"> </div> <div class="bvseo-author">Asked by: Dflowers</div> <div class="bvseo-answer" data-answerid="2088378"> Hey there! Good question. The appliance may produce some smoke when you use it for the first time. It is normal for a new product to produce an unpleasant smell or emit some smoke when it is first used. This phenomenon stops after you have used the appliance a few times. <div class="bvseo-author">Answered by: Oster Consumer Care</div> <div class="bvseo-pubdate">Date published: 2021-01-05</div> </div> </div> <div class="bvseo-question-answer" data-questionid="2331503"> <h2 class="bvseo-question"> Does the cord detach from mixer? &amp;nbsp;or tuck into storage container? </h2> <div class="bvseo-question-detail"> </div> <div class="bvseo-author">Asked by: Anonymous</div> <div class="bvseo-answer" data-answerid="2025338"> Hey there! Thanks for reaching us out. The cord has been designed to retract into the mixer housing for convenient storage when not in use. The button is located on the side of unit. <div class="bvseo-author">Answered by: Oster Consumer Care</div> <div class="bvseo-pubdate">Date published: 2020-12-31</div> </div> </div> <div class="bvseo-question-answer" data-questionid="2312954"> <h2 class="bvseo-question"> Price of mixer </h2> <div class="bvseo-question-detail"> </div> <div class="bvseo-author">Asked by: Mighty Mouse</div> <div class="bvseo-answer" data-answerid="2006262"> Oster is committed to giving our consumers an exceptional shopping experience both online and in stores. As we pursue new pathways to bring our products directly to you, we are relying on our retail partners to offer you the best of Oster products.&#13;&#10;&#13;&#10;Amazon&#13;&#10;Walmart&#13;&#10;Target&#13;&#10;Bed, Bath &amp;amp; Beyond&#13;&#10;Best Buy&#13;&#10;Costco Wholesale&#13;&#10;Meijer&#13;&#10;Macy&#39;s&#13;&#10;Kroger&#13;&#10;Kohl&#39;s&#13;&#10;Sam&#39;s Club&#13;&#10;The Home Depot&#13;&#10;&#13;&#10;Hope this helps! <div class="bvseo-author">Answered by: Oster Consumer Care</div> <div class="bvseo-pubdate">Date published: 2021-01-16</div> </div> </div> <div class="bvseo-question-answer" data-questionid="2234136"> <h2 class="bvseo-question"> Where can I get replacement attatchments at? The original ones got lost </h2> <div class="bvseo-question-detail"> </div> <div class="bvseo-author">Asked by: Ashj</div> <div class="bvseo-answer" data-answerid="1979224"> Thanks for reaching out! As we pursue new pathways to bring our products directly to you, we are relying on our retail partners to offer you the best of Oster products. You can purchase Oster products and replacement parts at any of our retail partners.&#13;&#10;&#13;&#10;You may find this link helpful for the complete list of our online and in-store authorized retailers:&#13;&#10;&#13;&#10;https://www.oster.com/service-and-support/Retailers.html&#13;&#10;&#13;&#10;Hope this helps! <div class="bvseo-author">Answered by: Oster Consumer Care</div> <div class="bvseo-pubdate">Date published: 2021-02-04</div> </div> </div> <div class="bvseo-question-answer" data-questionid="2176802"> <h2 class="bvseo-question"> How do I get the whisks to stay in the blender?&amp;nbsp; </h2> <div class="bvseo-question-detail"> </div> <div class="bvseo-author">Asked by: Jacque22</div> <div class="bvseo-answer" data-answerid="1940842"> Thank you for reaching out. We are sorry to hear that the beaters on your hand mixer are not staying in the head of your mixer.&#13;&#10;&#13;&#10;If the beaters are not staying in the head of the mixer, be sure to check that they have been inserted properly.&#13;&#10;&#13;&#10;If they have been inserted properly, the mixer needs to be serviced by a service center. To find the service center nearest you, please go to our website on the link below:&#13;&#10;&#13;&#10;http://www.oster.com/locations?storeType&#61;Service%20Center&amp;amp;cid&#61;service-center-locations.&#13;&#10;&#13;&#10;Select the state in which you require service. If a service center is not located near you, we recommend expanding your search to neighboring states. Be sure to contact the service center before sending your product to ensure proper service. &#13;&#10;&#13;&#10;If you need further assistance, kindly give us a call at 1-800-334-0759 and we will get you all taken care of. For your convenience, we are available Mon-Fri, from 9am-5pm, EST. Have a great day! <div class="bvseo-author">Answered by: Oster Consumer Care</div> <div class="bvseo-pubdate">Date published: 2021-01-03</div> </div> </div> <div class="bvseo-question-answer" data-questionid="2026868"> <h2 class="bvseo-question"> were do i find the wisk </h2> <div class="bvseo-question-detail"> </div> <div class="bvseo-author">Asked by: JoJo38</div> <div class="bvseo-answer" data-answerid="1824230"> Thanks for reaching out! As we pursue new pathways to bring our products directly to you, we are relying on our retail partners to offer you the best of Oster products. You can purchase Oster products and replacement parts at any of our retail partners.&#13;&#10;You may find this link helpful for the complete list of our online and in-store authorized retailers:&#13;&#10;&#13;&#10;https://www.oster.com/service-and-support/Retailers.html#?sortby&#61;newest&#13;&#10;&#13;&#10;If you need further assistance, kindly give us a call at 1-(800) 334-0759 and we will get you all taken care of. For your convenience, we are available Mon-Sat 9am-6pm, EST. <div class="bvseo-author">Answered by: Oster Consumer Care</div> <div class="bvseo-pubdate">Date published: 2020-06-27</div> </div> </div> <div class="bvseo-question-answer" data-questionid="2004769"> <h2 class="bvseo-question"> Where can I find the dough mixer hook for this model? </h2> <div class="bvseo-question-detail"> </div> <div class="bvseo-author">Asked by: SPKa</div> <div class="bvseo-answer" data-answerid="1810732"> Thanks for reaching out! As we pursue new pathways to bring our products directly to you, we are relying on our retail partners to offer you the best of Oster products. You can purchase Oster products and replacement parts at any of our retail partners.&#13;&#10;You may find this link helpful for the complete list of our online and in-store authorized retailers:&#13;&#10;&#13;&#10;https://www.oster.com/service-and-support/Retailers.html#?sortby&#61;newest&#13;&#10;&#13;&#10;If you need further assistance, kindly give us a call at (800) 334-0759 and we will get you all taken care of. For your convenience, we are available Mon-Sat 9am-6pm, EST. <div class="bvseo-author">Answered by: Oster Consumer Care</div> <div class="bvseo-pubdate">Date published: 2020-05-12</div> </div> </div> </div> <script type="text/javascript"> if (document.getElementById('bvseo-questionsSection')) { document.getElementById('bvseo-questionsSection').style.display = 'none'; } </script> <!--end-questions--> <!--begin-pagination--> <ul id="bvseo-paginationSection"> <li class="bvseo-paginationItem"><a class="bvseo-paginationLink" href="https://www.oster.com/food-preparation/mixers/oster-270-watt-hand-mixer-with-heatsoft-technology---storage-case-included/SAP_FPSTHMSNCW.html?bvrrp=Main_Site-en_US/questions/product/2/SP_440329.htm">Oster&reg; 270-Watt Hand Mixer with HEATSOFT Technology - Storage Case Included Questions - page 2</a></li> </ul> <!--end-pagination--> <ul id="BVSEO_meta" style="display:none!important"> <li data-bvseo="bvDateModified">y_2021, m_11, d_25, h_18CST</li> <li data-bvseo="ps">bvseo_bulk, prod_bvqa, vn_bulk_3.0.20</li> <li data-bvseo="cp">cp_1, bvpage1</li> <li data-bvseo="co">co_hasquestionsanswers, tq_14</li> <li data-bvseo="cf">loc_en_US, sid_SP_440329, prod, sort_[SortEntry(order=LAST_APPROVED_ANSWER_SUBMISSION_TIME, direction=DESCENDING)]</li> <li data-bvseo="diagnostics">clientName_oster</li> </ul> <!--end-bvseo-questions--> <ul id="BVSEOSDK_meta" style="display: none !important;"> <li data-bvseo="sdk">bvseo_sdk, dw_cartridge, 18.2.0, p_sdk_3.2.0</li> <li data-bvseo="sp_mt">CLOUD, getContent, 0ms</li> <li data-bvseo="ct_st">questions, product</li> </ul>
product-detail-view
oos-pdp