Baby Back Ribs with Whiskey and Coffee Barbecue Sauce
Featured Product: Oster® DiamondForce™ Indoor Smokeless Grill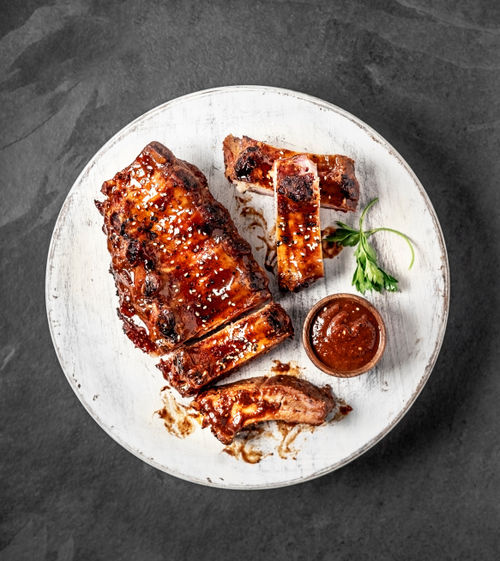 Ingredients:
1 cup whiskey
1/4 cup vegetable oil
1 cup finely chopped onion
1 tsp spices
1 tsp red pepper flakes
2 tsp finely chopped garlic
1 cup ketchup
1/4 cup strong brewed coffee
1/2 cup brown sugar
1/4 cup red wine vinegar
1/4 cup lemon juice
2 tbsp Worcestershire sauce
2 tbsp honey
1tbsp Tabasco (or hot sauce of choice)
1 finely chopped chili pepper
1 lemon zest
1/2 tsp salt
1/2 tsp ground pepper
2 strips chopped pork ribs in halves (approx. 4.40 lbs.)
Instructions:
In a pot, reduce the whiskey to 1/3 cup, remove and let cool.

In a fry pan heat the oil, add the onion, garlic, spices and red pepper flakes.

Let cook for a minute.

Add the ketchup, the coffee, the sugar, the vinegar, the lemon juice, the Worchestershire sauce, the honey, the Tabasco (or hot sauce of choice), the chili pepper, the zest and stir until the sugar dissolves.

Add the whiskey and cook for 2 more minutes.

Turn off and remove the bowl from the base.

Beat the sauce until smooth and season.

Cover the ribs with this barbecue sauce, cover with plastic wrap and leave to marinate in the refrigerator for 12 to 24 hours.

Pre-heat the Oster grill to 400°F/200°C, remove the ribs from the marinade, shaking to remove any excess and roast for 15 minutes covered.

Flip the ribs, drizzle with the marinade and continue roasting for 15 more minutes.

Bathe with the marinade again.

Remove when the ribs are fully cooked.
Lunch And Dinner
Pork
Grills And Griddles