Brussel Sprouts with Pumpkin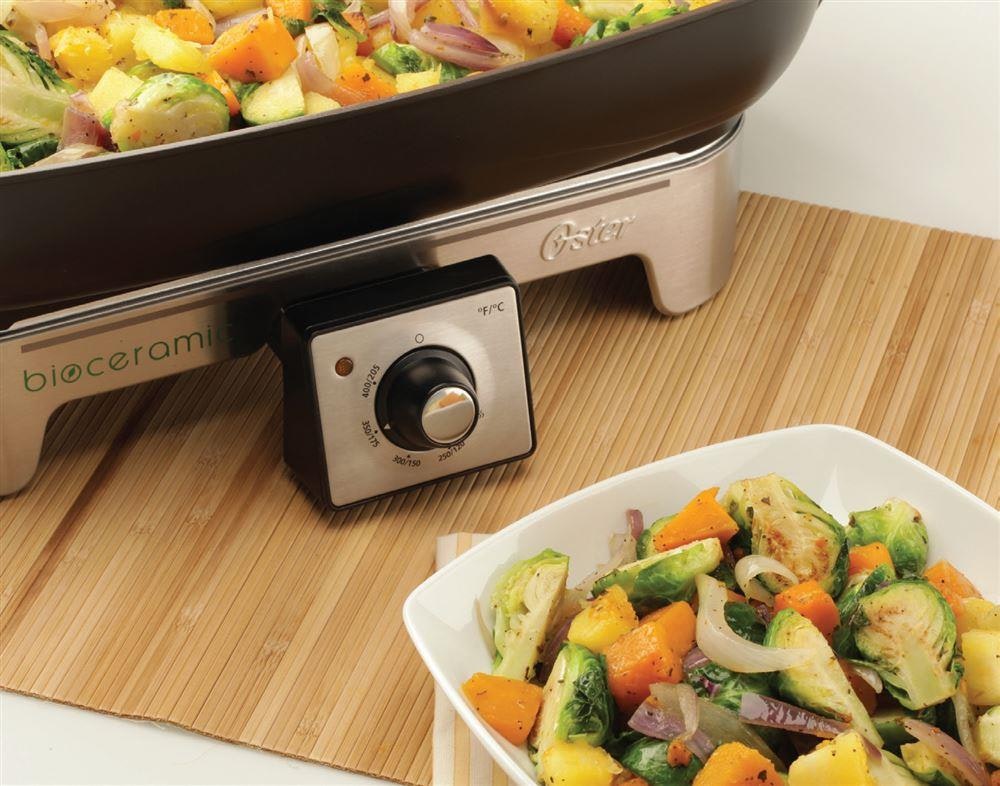 Featured Product: Oster® DiamondForce™ Strain & Pour Electric Skillet
Ingredients:
• 1 ½ pound (700 grams) Brussels sprouts without yellow leave and stalk ends
• 1 small pumpkin, cut in quarters
• 1 red onion, cut in wedges
• 1 white onion, cut in wedges
• 3 tablespoons olive oil
• 3 tablespoons white wine vinegar
• 1 tablespoon salt
• ½ teaspoon black pepper, freshly ground
• 1 dash crushed red pepper
• 1 bunch of sage
Instructions:
1.Preheat your Oster® Skillet for 15 minutes with the temperature control set to 350˚F (175˚C) as instructed in the manual.
2.Pour olive oil, add slowly onions and sauté, stirring gently.
3.Add Brussels sprouts, pumpkin and cook for 10 minutes; in the meantime, preheat the oven to 4000˚F (200˚C).
4.When cooking time is reached, add vinegar, salt and black pepper; mix all ingredients.
5.Turn temperature control dial to OFF, unplug unit from electrical outlet, remove skillet from heating base and transfer to the oven for about 20 minutes, stirring contents carefully every 10 minutes for even browning.
6.Once the Brussels sprouts and pumpkin are golden brown, transfer the skillet to the heating base, plug into wall outlet and turn temperature control to warm to keep food at serving temperature.
7.Sprinkle with red pepper, sage and serve.
Sunbeam Products, Inc. d/b/a Jarden Consumer Solutions has not tested these recipes and is not responsible for the outcome of any recipe. You may not achieve the results desired due to variations in ingredients, cooking temperatures, cooking times, typos, errors, omissions, or individual cooking abilities. Please always use your best judgment when cooking with raw ingredients such as eggs, chicken or fish.
Side Dishes
Vegetable
Skillets