Celebrate Galentine's Day with These Sweet Treats
February is the month of love, but romantic love isn't the only kind that should be celebrated. Sharing red roses, heart-shaped gifts, and cheesy rom-coms with your person is great of course, but so is showing love to your girlfriends who have always been there for you. Galentine's Day (aka Valentine's Day eve) is the perfect time to do just that. On February 13th, gather your girlfriends—single or not—and celebrate your friendship.
Bond with Your Besties Over Brunch
If you're looking for Galentine's Day ideas, our suggestion is to keep it simple. Traditional G-Day celebrations include food (after all—food is love), so focus less on décor and more on what dishes to serve. Brunch is the perfect elevated, yet effortless, meal. For your entrée, we recommend making something simple like a frittata, and then preparing some delicious homemade desserts, like the ones we've selected below:
---
Chocolate Volcano
Your chocolate-loving friends will fall in lava with this decadent dessert. It's cake on the outside, filled with delightfully gooey molten chocolate on the inside. And it's super-easy to make with our XL Digital Air Fry Oven.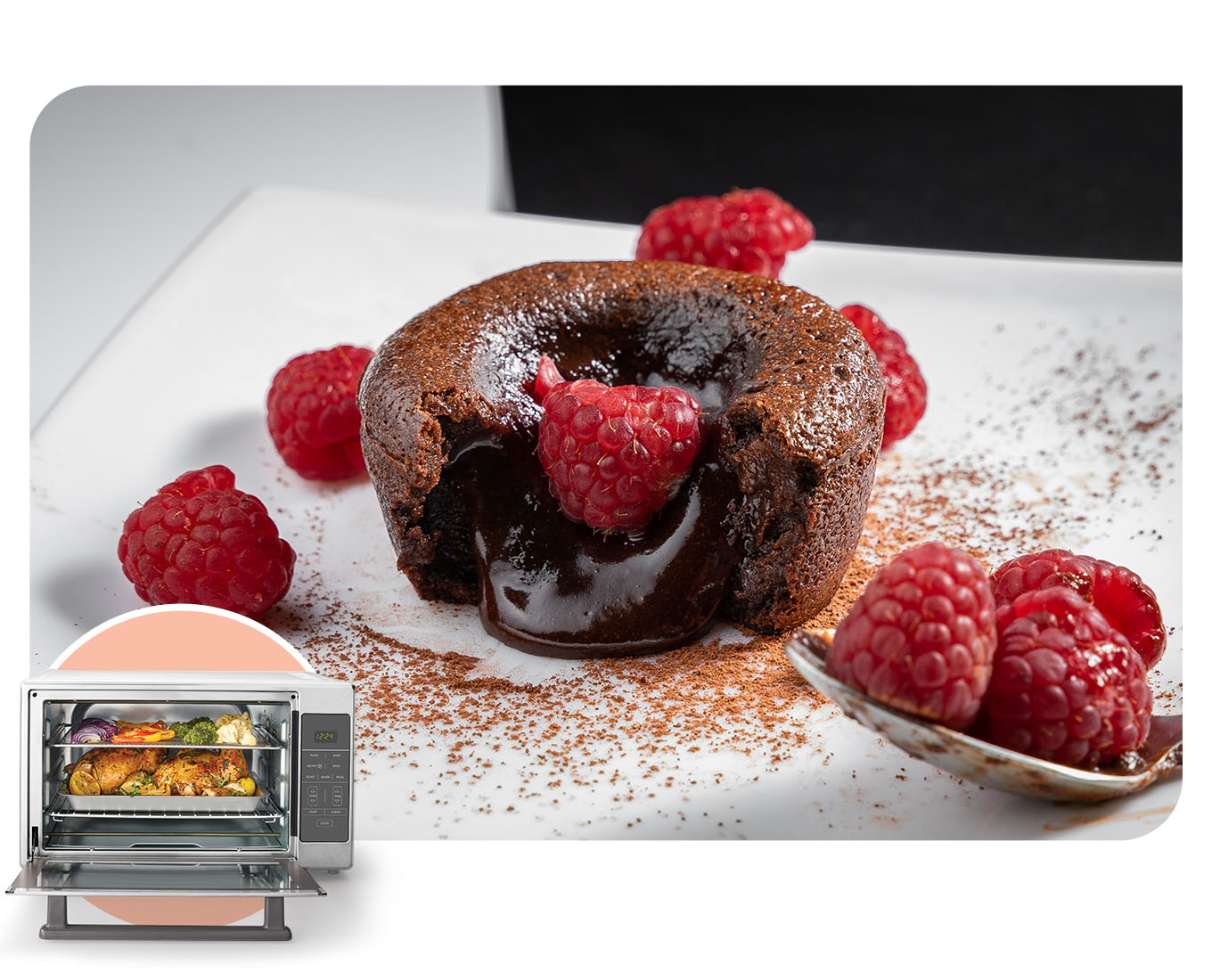 Ingredients
4 eggs
4 yolks
1 cup of sugar
1 cup of chocolate in pieces
2 sticks of butter
½ cup of wheat flour
Chocolate truffles
Pastry bag
Cake rings
Parchment paper
Instructions
Grease and cover cake rings 3 inches high and 2 inches in diameter with parchment paper. Make sure that the paper around the rings is 2 inches taller than the rings.
With a mixer, beat the eggs, yolks, and sugar at high speed, until you get the consistency of meringue.
Melt the chocolate in with the butter, then add the eggs and flour to the mixture and fold all the ingredients together.
Place the mixture in a pastry bag without a nozzle, and fill the molds up to the edges of the rings. The "volcano" will rise over the 2-inch space that was created with the parchment paper.
Place a chocolate truffle in the center of each cake ring.
Bake in your XL Digital Air Fry Oven for 6 minutes at 400ºF.
Remove and let cool slightly before enjoying!
---
Chia, Chocolate & Date Truffles
These irresistible chocolate bites are the perfect snack to serve at your Galentine's get-together. Not only are they delicious, they're vegan, too. They're sure to go fast, so do a few extra! Make them with our 2-in-1 Blender System.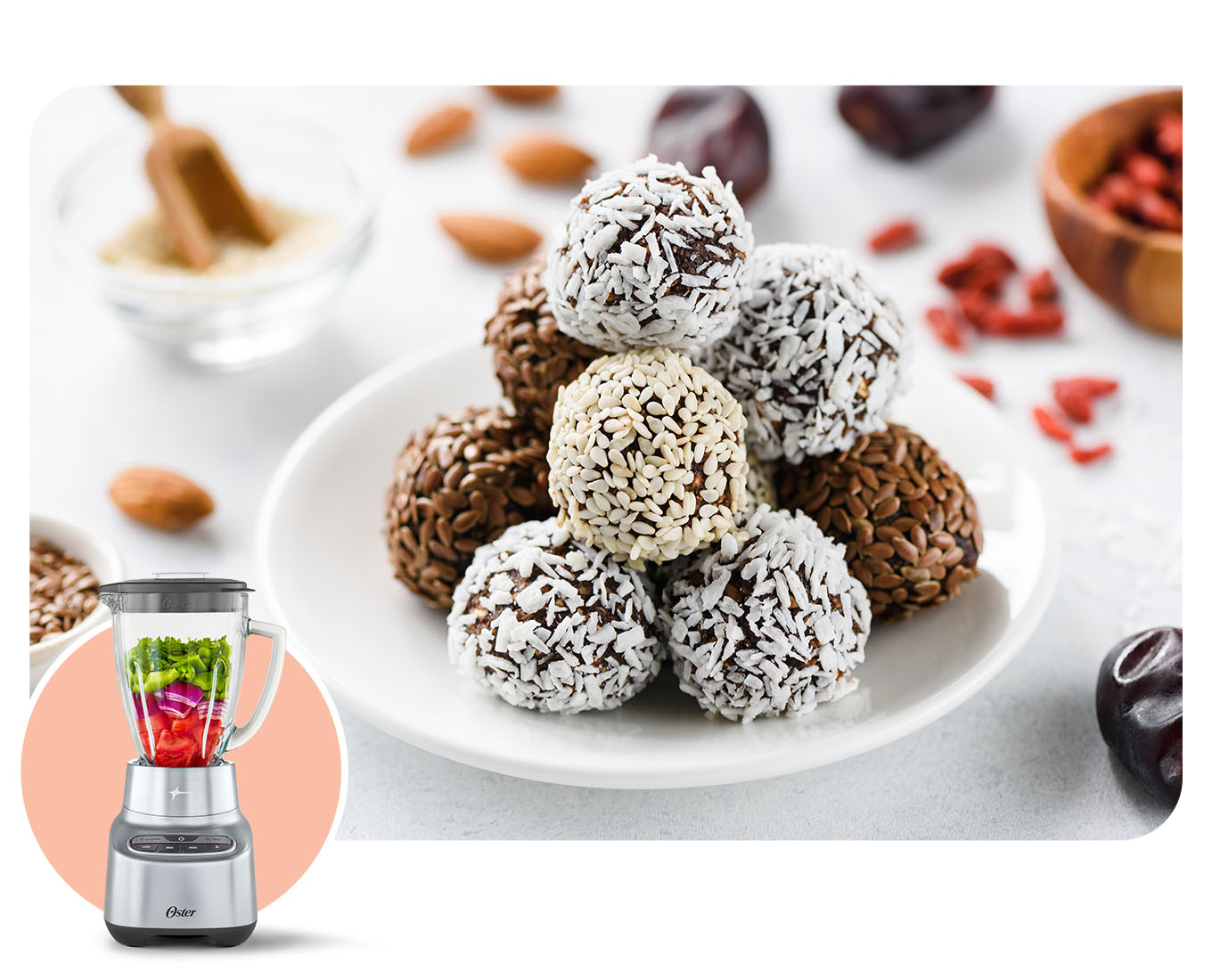 Ingredients
1 cup of walnuts
1 tablespoon of coconut oil
½ cup of seedless dates (approximately 6 dates)
½ cup of cocoa
3 tablespoons of hydrated chia in ¼ cup of water
½ cup sliced ​​almonds
¼ cup grated coconut
¼ cup pumpkin seeds
¼ cup sunflower seeds
Instructions
Place the nuts in the glass of your blender, turn the knob at speed 1 for 2 seconds, turn off. Repeat once more; remove from the glass and set aside.
Pour the coconut oil, dates, and cocoa into the blender and turn the knob to speed 1 until you see that the ingredients are mixed.
Add the chia and blend at speed 2 for 30 seconds, or until you see that everything has been mixed. Put the mixture in the fridge for two hours.
Meanwhile, place the sliced ​​almonds, grated coconut, and seeds in individual piles on a flat surface. Take portions of the cooled dough and form balls of approximately 1 inch. Roll them on the flat surface making circular movements and add in the almonds or grated coconut or seeds.
Once you have made all the truffles, put them back into the fridge for 4 hours.
Serve as a dessert, or enjoy them as a delicious and healthy snack.
---
Fruit Tartlet
With vibrant red strawberries and sweet green kiwis nestled in puff pastry, this irresistible dessert has the look of love. Bake the pastry in our XL Digital Air Fry Oven, then top it with the fruit and sweetened cream.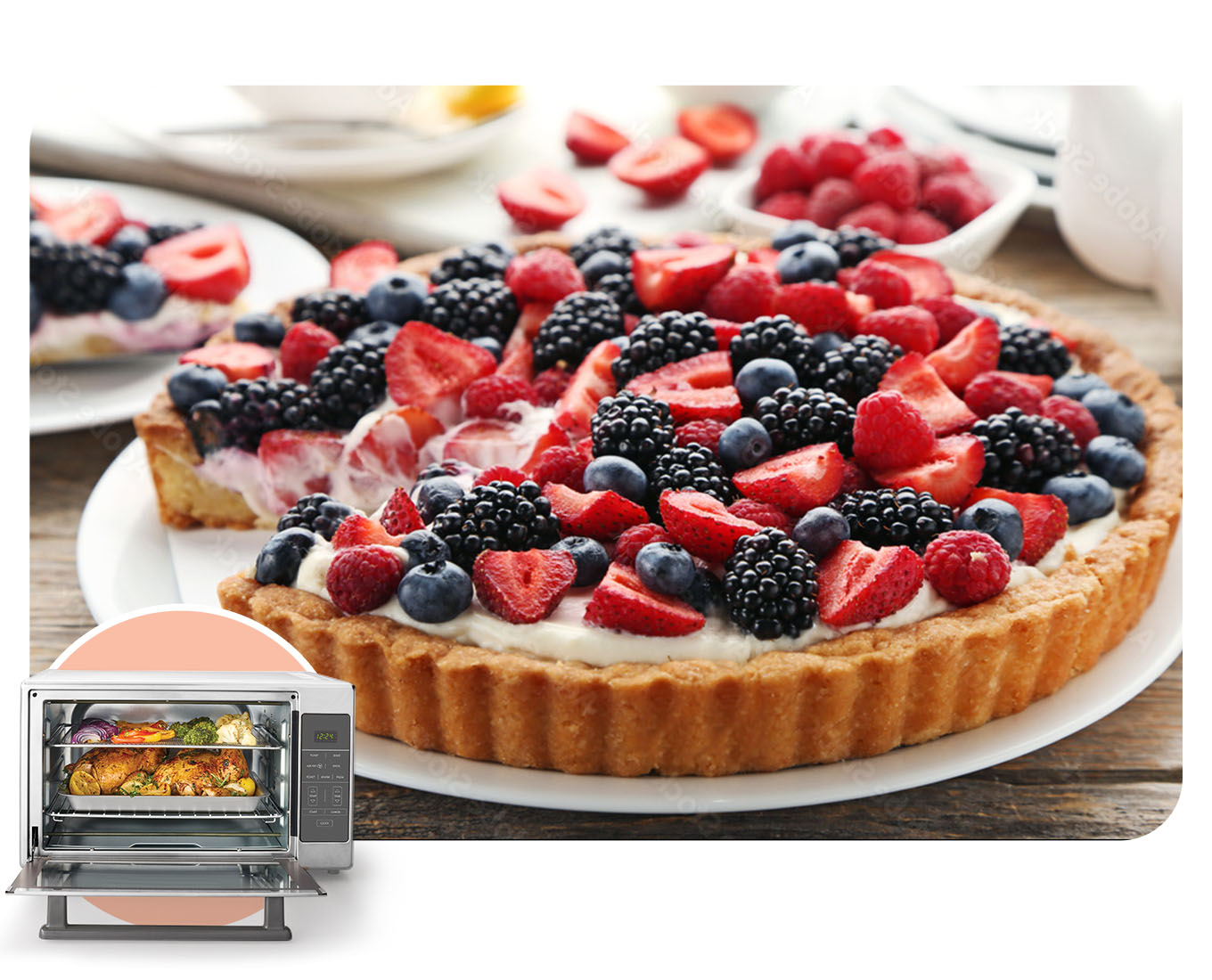 Ingredients
1 sheet of puff pastry
½ tablespoon butter, melted
2 cups heavy cream
¼ cup brown sugar or your choice
Approximately 24 strawberries, cut lengthwise
3 kiwis, peeled and sliced ​​
Aluminum foil
Pastry weights
8-inch tart pan
Instructions
Preheat your XL Digital Air Fryer Oven to 350ºF on the turbo convection setting.
Grease the mold with butter and arrange the puff pastry on it.
Using a fork, make small holes in the dough and place the aluminum foil on top and then the pastry weights.
Place in the oven for 15 minutes.
Meanwhile in a blender, beat the cream with the sugar until it has thickened, and then place in the refrigerator.
After 15 minutes, take out the cake and remove the foil and the weights.
Put the cake back in the oven and program for 5 more minutes or until the puff pastry turns golden.
Once the base of the cake is ready, let it cool and pour the cream over it.
Decorate with the strawberries and kiwis, and serve.
---
Wild Berry Champagne Cocktail
Greet your guests and toast to your friendship with this refreshing, ruby-hued cocktail made with berries, champagne, and blackberry liqueur. Make it with our One-Touch Blender with Auto Programs.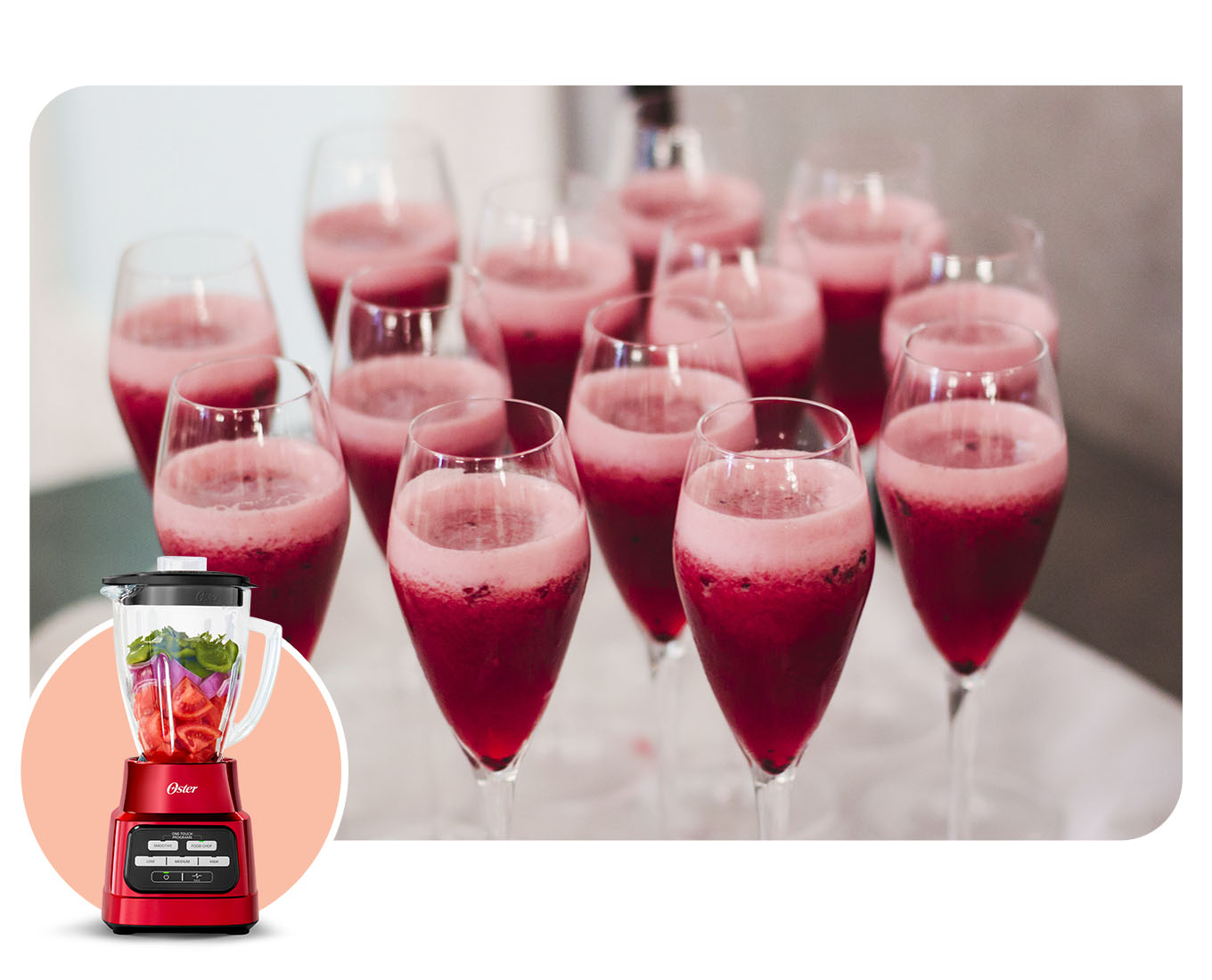 Ingredients
¼ cup lemon juice
¾ cup simple syrup
¾ cup blackberry liqueur
1 cup raspberries
1 cup blackberries
1 bottle of champagne
Instructions
Mix the first 5 ingredients in your blender.
Blend for about 15 seconds, then add the champagne when serving.
Serve in tall glasses.
---
You've got the food and cocktails ready, so all that's left to do is decorate (again: nothing fancy), cue up the playlist, and welcome your friends. Happy Galentine's Day!