Honey-Wheat Buttermilk Pancakes
Hot, buttery pancakes made with calorie-cutting ingredients make a great start to any weekend.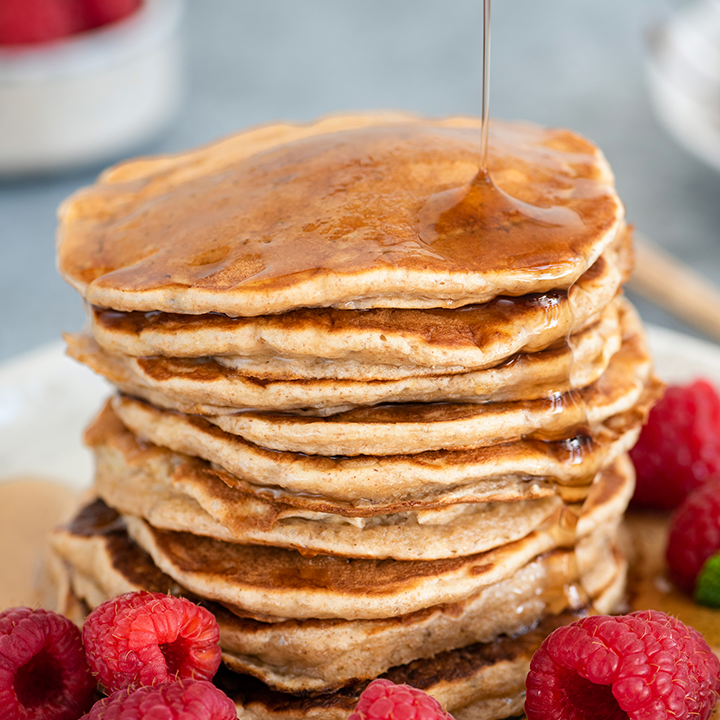 Ingredients:
• 1 ⅓ cups low-fat buttermilk
• 2 eggs
• 2 tbsp honey
• 1 ½ cups reduced-fat buttermilk baking mix
• ½ cup whole wheat flour
• ¼ cup honey-crunch wheat germ
• 1 tsp baking powder
• Butter and syrup for serving

Instructions:
1. Place buttermilk, eggs, honey, baking mix, flour, wheat germ, and baking powder into your Oster® Blender. Blend on HIGH speed until batter is fully blended.
2. Pour ¼ cup of batter onto preheated skillet. Cook until the top begins to bubble. Turn over and cook until golden brown.
3. Serve hot with butter and syrup.
Sunbeam Products, Inc. d/b/a Jarden Consumer Solutions has not tested these recipes and is not responsible for the outcome of any recipe. You may not achieve the results desired due to variations in ingredients, cooking temperatures, cooking times, typos, errors, omissions, or individual cooking abilities. Please always use your best judgment when cooking with raw ingredients such as eggs, chicken or fish.