Roasted Pepper and Tomato Bisque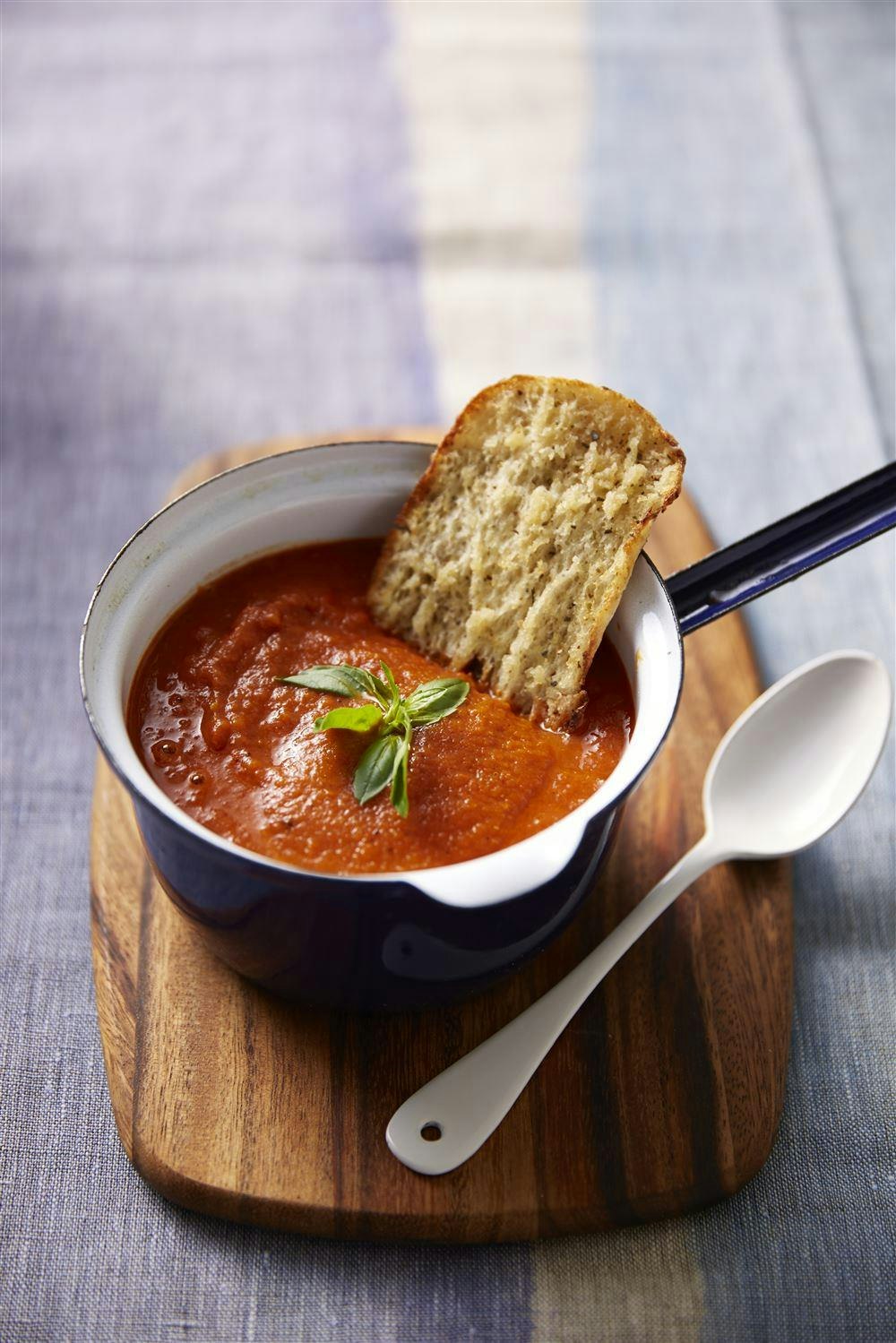 Ingredients:
• 2 lbs. of vine-ripened tomatoes, quartered
• 4 red bell peppers, seeds removed, cut into small chunks
• 3 red onions, peeled and cut into quarters
• ¼ cup olive oil
• 2 tablespoons balsamic vinegar
• 1 tablespoon brown sugar
• 6 cups vegetable stock
• ½ cup thickened cream
• Salt and freshly ground black pepper, to taste
• Crusty bread and fresh basil leaves, to serve
Instructions:
1. Preheat oven to 350°F. Grease and line two baking trays with baking paper.
2. In a large bowl combine tomatoes, peppers and onions.
3. Pour over oil, vinegar and brown sugar. Toss to combine.
4. Scatter tomato mixture across the two prepared trays.
5. Bake for 40 minutes or until onions are beginning to caramelize and tomatoes are soft. Allow to cool to room temperature.
6. Place tomato mixture and stock, in batches, into the blender jar. Secure the lid.
7. Blend on HIGH speed for 20 seconds or until smooth. Season to taste with salt and pepper.
8. Pour pureed soup into a clean pot and bring to a simmer.
9. Serve soup with crusty bread and fresh basil leaves.
Sunbeam Products, Inc. d/b/a Jarden Consumer Solutions has not tested these recipes and is not responsible for the outcome of any recipe. You may not achieve the results desired due to variations in ingredients, cooking temperatures, cooking times, typos, errors, omissions, or individual cooking abilities. Please always use your best judgment when cooking with raw ingredients such as eggs, chicken or fish.
Soups And Stews
Vegetable
Blenders