Spiralized Potato Gratin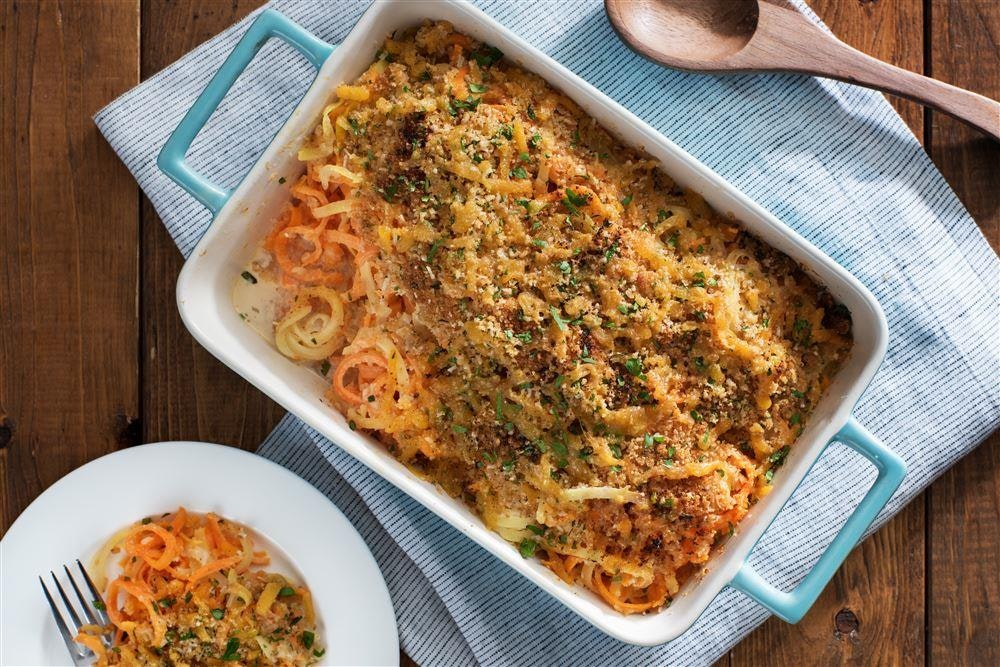 Ingredients:
• 1 tbsp olive oil
• 2 shallots, minced
• 1 clove garlic, minced
• 1/4 cup white wine
• 1 cup 35% heavy cream
• 1 cup chicken or vegetable broth
• 2 tbsp chopped fresh sage or thyme
• 1 tbsp Dijon mustard
• 1/2 tsp each salt and pepper
• 2/3 cup grated Parmesan cheese, divided
• 1/2 cup shredded Cheddar cheese
• 1 1/2 lb sweet potatoes (about 2), ends trimmed, peeled and cut into 4-inch pieces
• 1 1/2 lb Yukon Gold potatoes (about 2), ends trimmed, peeled and cut into 4-inch pieces
• 1/2 cup fresh bread crumbs
• 2 tbsp butter, melted
• 1 tbsp chopped fresh parsley
Instructions:
1. Preheat oven to 375°F. Heat oil in large saucepan set over medium-high heat; sauté shallots and garlic for 2 to 3 minutes or until fragrant. Add wine; cook for 2 to 3 minutes or until reduced by half.
2. Add cream, broth, sage, mustard, salt and pepper; bring to simmer. Cook for about 5 minutes or until slightly thickened. Remove from heat and stir in half of the Parmesan, and Cheddar cheese. Set aside.
3. Place piece of sweet potato into spiralizer chute. Turn spiralizer on; press sweet potato using pusher until dispensed into bowl. Repeat with remaining sweet potato and Yukon Gold potatoes. Using scissors, trim into shorter strands.
4. Toss potatoes with sauce and transfer to greased oval gratin dish or 8-cup casserole dish. Toss bread crumbs with remaining Parmesan cheese, melted butter and parsley. Set aside.
5. Cover dish with foil. Bake for 40 minutes; uncover and sprinkle with reserved bread crumb mixture. Bake for 30 to 40 minutes or until potatoes are tender and bread crumbs are golden. Let stand for 10 minutes before serving.
Sunbeam Products, Inc. d/b/a Jarden Consumer Solutions has not tested these recipes and is not responsible for the outcome of any recipe. You may not achieve the results desired due to variations in ingredients, cooking temperatures, cooking times, typos, errors, omissions, or individual cooking abilities. Please always use your best judgment when cooking with raw ingredients such as eggs, chicken or fish.
Entrees
Vegetable
Toasters And Ovens