Oster® Stainless Steel Convection Oven with Pizza Drawer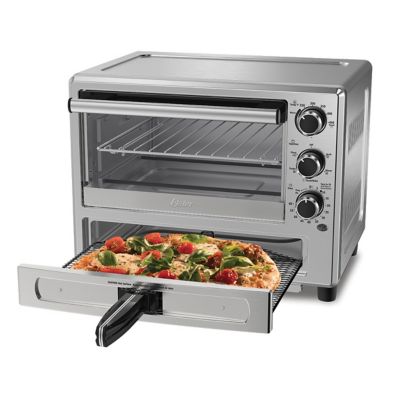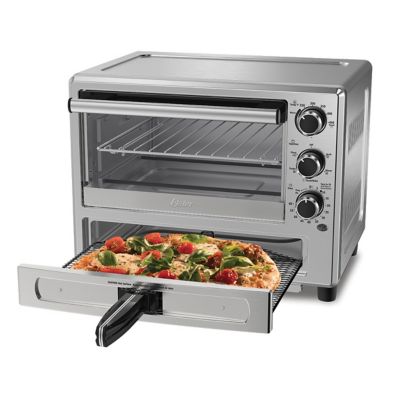 Oster® Stainless Steel Convection Oven with Pizza Drawer
Final Sale: may not be returned or exchanged
Final Sale: may not be returned or exchanged
Product Details
Description
Bake, broil, toast and more with the Oster® Convection Oven with Pizza Drawer. Specially-designed pizza drawer is ideal for preparing a variety of foods such as pizzas up to 12", bruschetta and quesadillas. The top oven features turbo convection baking technology to cook faster and brown food more evenly for perfect results. Either way, you'll enjoy the flexibility and convenience for making delicious meals and snacks with ease.
Turbo convection heat technology circulates hot air through the oven for faster, more even cooking
Adjustable temperature and cook settings
Brushed Stainless Steel exterior fits most kitchen décor
Adjustable broil control for broiling at any temperature
60-minute, audible signal timer automatically turns the oven off when cooking is complete
Two rack positions accommodate a variety of foods
Durable baking pan and baking rack double as a broiling pan when assembled
Cool-Touch handles for safe operation
Note: Pizza Drawer and Upper Oven cannot be used simultaneously
Easy to clean with removable pizza oven rack and crumb tray
Specifications
Dimensions:

13.4" x 13.0" x 17.52" (H x W x D)
Warranty
1 Year Limited Warranty
Where to Buy
The following link will take you to a site outside of Oster.
Rated

5

out of

5
by
welshcar
from
Very Versatile Oven
The first time I used this oven, I used it to heat up a CPK frozen pizza. It was cooked to perfection and didn't taste like it came from the freezer. The pizza tray allows the pizza to come to a perfect crispness. I can't wait to make a pizza from scratch. In addition to cooking pizza, the oven can be used as a conventional oven, convection, toasting and broiling. It looks great sitting on my counter, very sturdy and solid, a high quality appliance. Having this oven in my kitchen will allow me to cook multiple dishes for the holidays. I received this appliance as a sample to review. Had I not received this as a sample, I would definitely buy it myself.
Date published: 2016-10-24
Rated

5

out of

5
by
bswens3737
from
A Convenient, Awesome Way to Cook!
I love this oven. It has a clean, new, stainless steel look and can be used to cook so many different things. We used it while watching football to cook wings, mozzarella sticks, chicken fingers, and fries. The pizza drawer was awesome for a quick pizza as well. The easy to use, safety handles on the pizza drawer were an extra awesome bonus to this already great appliance. We love this for cooking so many things and can't wait to try stuff like melts, fish, sticks, and a lot more. On a side note, I was fortunate to try this product as I was given this product to sample, and instantly fell in love with it.
Date published: 2016-10-24
Rated

5

out of

5
by
MissChin1984
from
Pizza Perfect !!
The Oster Stainless Steel Convection Oven with Pizza Drawer is a fabulous product. The Stainless Steel gives it a modern appearance, and the features are easy to read. It is a great size for kitchen countertops. Using the product I enjoyed using the pizza drawer for making personal pizzas for the family. The folding handles make it easy to grip the drawer to open and I like that once out of use they can fold in. Making pizzas from fresh ingredients this pizza drawer bakes our pizza to perfection ( crispy crusts and gooey cheese). The Oven portion is great for baking, it's quick and easy to use. I highly recommend this product. Disclaimer: I received this Product to test and Review in my home.
Date published: 2016-10-22
Rated

1

out of

5
by
zoez
from
so disappointed
Interesting as I wrote a review but it is not listed...so disappointed with oven as it came dented but the outside box was not so that is poor quality control by Oster...the knobs seem a bit loose...and then upon trying it I was not happy as the oven did not seem to heat up properly nor did the pizza drawer melt the cheese to my liking...over all a good idea but the product does not live up to the description or reviews...plus to return it would cost in shipping almost as much as I paid for the product....so I am stuck it seems....I did learn one thing...never buy such a unit as this online...
Date published: 2018-04-04
Rated

5

out of

5
by
Carolyn L
from
Stylish and Functional!
This stainless steel convection oven with pizza drawer is very well made with a nice appearance which is compact and should fit nicely in even the smallest of kitchens. It should be a great addition for people that don't want to clutter their space with gadgets because It has a lot of different functions/features. It comes with a broiling tray and wire rack which is awesome. I do recommend reading the instructions as far a cooking times and other great cooking ideas. I think it would be handy for folks with busy lifestyles with little time for cooking and cleaning as it's a easy to use and a snap to clean. I love the idea of cooking more then just pizza in the pizza drawer. I highly recommend this functional, stylish convection oven. I did receive this oven as a sample to review - and boy am I glad I did!
Date published: 2016-10-21
Rated

4

out of

5
by
DCATonian
from
Professional Look and unique features
I've been using this product for over a month now, it replaced my year old toaster oven of another brand. My old toaster oven worked great, but I wanted to see how well this could keep up. The design looks like it belongs in a chef's kitchen; stainless steel with clean and sharp lines. It's also sturdy and feel's like it's well built. It's the same width of a typical toaster oven, but double the height. I didn't like the knobs, especially the bottom knob for the cooking time. In my experience the knob design is no very accurate. I especially experienced this when making toast; I never knew if I was putting it for too long or too little despite the light to dark toast indicator beside the knob. Pizza Oven: This is the best feature! I used it to warm up NY style slices, frozen pies, and even made from scratch pizzas. In all three cases the pizza tasted great; crisp crust with moist toppings. Best of all the cooking time was cut down by a fraction of the time on the instructions. Making pizza from scratch was so easy with this. I could fit 2 (6 inch crust) pizzas if I kept them staggered. Pros: Design, Professional Look, Pizza Oven, Turbo Boost, Easy to Clean Pizza tray Cons: Knobs, top and sides get HOT It took some getting used to, but its quickly become a kitchen favorite.
Date published: 2016-10-24
Rated

4

out of

5
by
Reece G
from
I love the Oster Convection Oven with Pizza Drawer
I love the Oster Stainless Steel Convection Oven with Pizza Drawer. It's really easy to use. Everything is analog. Everything is manual. It does a great job baking just about anything. The top round knob, you set the temperature, labeled "Temp." I wish there was a digital display so that when you turn the knob, you can be more precise with the temperature. You have a range of 250-450 degrees, but the lower setting of the knob isn't labeled with temperature ranges from 0-250, it just says "Warm," so that part of it a guess. The second round knob is for choosing what or how to cook your item, called "Function". You have a choice of Pizza, Turbo bake, Toast/Bake, Warm, Broil or Off. I baked our pizza in the pizza drawer, so have to have set for "Pizza" to do that. I baked our cookies with "Toast/Bake." I broiled a simple 4-ounce salmon fillet. It turned out great. It was a bit messy to clean after that. The third round knob is the timer, labeled "Time". The timer has a range of 0-60 minutes, but there's also a setting to "Stay On". That would be good to slow roast something like meat. When the time is up, the oven dings when the food is done cooking. I baked cookies in the oven which turned out better than our conventional oven. The cookies were a bit fluffier and softer. I baked cookies in both ovens to compare the outcome of the final product. The cookies turned out great. I baked pizza in the drawer. I also baked a pizza at the same time in our conventional oven to compare the final pizza product. The crust of the pizza, baked in the Pizza Oven, came out crispy and cheese melted just right for me with browned edges. The pizza in our conventional oven browned the pizza all over. The cheese on top of the pizza from the conventional oven was overcooked, while the crust wasn't crispy enough. What do I like about our Oster Convection Oven with Pizza Drawer? Our kids love the Pizza Drawer Oven because it reminds them of an "Easy Bake Oven." It's as fun for them to watch us use it as it was to actually use it. The pizza oven cooks faster than our larger oven. I like the dedicated pizza drawer. The size is decent, perfect for counter tops. It looks great with the stainless steel design. I like the fold away front pizza drawer handle. What don't I like about the Oster Convection Oven with Pizza Drawer? You have to run a cooking cycle for the first time before you actually get to use the thing to break it in sort of speak. It will smoke and crackle, but manual says it's normal. It's supposed to do that, but it doesn't seem normal. There's no interior light to flip on to see things cooking, even though the oven is slightly larger than a microwave and about as shallow. Our microwave has a light that comes on when cooking, which is nice, so should this little oven. It was hard to see into the oven at night with the lights that I have in our kitchen. I don't like that there's not a digital display to precisely set the temperature. I also don't like that the analog knob, doesn't have temperature marks below 250 degrees. You have to guess what temperature that you are cooking at below 250 degrees. I thought this Pizza Oven would really be nice to use in an RV or cabin on camping trips away from home. It will definitely be used for that extra dish to bake during the holidays or the small meal when I don't want to use the large oven. Can't wait to bake some more cookies and pizza, or try something new! Just to let everyone know, I did receive this product as a sample to review. I think this is a really great product. It's going to be used often. It gives an option too when our conventional oven can't be used for whatever reason.
Date published: 2016-10-24
Rated

5

out of

5
by
BeckyBrooks
from
Stainless Steel Convection Oven with Pizza Drawer
Oster Convection Oven Review I was very impressed with the Oster Convection Oven with Pizza Drawer. I was not sure what to expect and was excited to try it out. My husband was thrilled with the pizza drawer because he loves pizza. I found the size of the pizza drawer ample for most frozen pizza and easy to use. We thought the pizza came out great and I was thankful to not have to turn on the oven. I really liked how the pizza drawer was designed. I love the pull out handles, as some that I have seen have that handle sticking out all the time. This way when I am not using it the handle is not protruding. The oven does take up a bit of space on the kitchen counter and I am not sure how much I would actually use the convection oven feature. I did use the oven to make four piece of toast once since we only have a 2 slice toaster and that worked out quite well. I may try it next time I want to make a frozen dinner that has to go in the oven. For the price this oven has a ton of features that would be perfect if you did not want to turn on your oven or even if you did not have one. The only thing that I was concerned about is how hot the oven gets. We have a cat who walks up on the kitchen counters and I was worried he would put his nose on it. I am guessing if they had insulated it to prevent this, that it would have increased the size of the oven so I can understand why they did not. Still it's something to be aware of if you are considering this oven. The overall look of the pizza oven is awesome. We have stainless in our kitchen so it matches everything else. I am very happy with this product and plan on using it for years to come Thanks for reading my review Becky Brooks *I received the Oster Convection Oven with Pizza Drawer Oven free for testing and review purposes
Date published: 2016-10-22
bvseo_sdk, dw_cartridge, 18.2.0, p_sdk_3.2.0
CLOUD, getReviews, 0ms
reviews, product
---
<!--begin-bvseo-questions--> <!--begin-questions--> <div id="bvseo-questionsSection"> <div class="bvseo-question-answer" data-questionid="2553023"> <h2 class="bvseo-question"> Do any of your toaster convection ovens have any type of non- stick coating? Do the interiors contain stainless steel or aluminum? Thank you </h2> <div class="bvseo-question-detail"> </div> <div class="bvseo-author">Asked by: MJWE</div> <div class="bvseo-answer" data-answerid="2186542"> Thank you for contacting Oster&amp;reg; Brand. The interior of the oven is coated with an easy-clean surface that makes clean up simple. The non-stick coating is made up of galvanized or aluminized steel. Have a great day! <div class="bvseo-author">Answered by: Oster Consumer Care</div> <div class="bvseo-pubdate">Date published: 2021-04-08</div> </div> </div> <div class="bvseo-question-answer" data-questionid="2612894"> <h2 class="bvseo-question"> Just bought this. When set to turbo, it seems like the fan makes more noise than it should. Almost a little growl. Is this normal? </h2> <div class="bvseo-question-detail"> </div> <div class="bvseo-author">Asked by: raylin</div> <div class="bvseo-answer" data-answerid="2183180"> Thank you for contacting Oster&amp;reg; Brand. Thank you for asking. It is normal for convection ovens to be a little noisier than a conventional oven because of the way they function. Have a great day! <div class="bvseo-author">Answered by: Oster Consumer Care</div> <div class="bvseo-pubdate">Date published: 2021-07-23</div> </div> </div> <div class="bvseo-question-answer" data-questionid="2339251"> <h2 class="bvseo-question"> Where can i buy one of those. </h2> <div class="bvseo-question-detail"> </div> <div class="bvseo-author">Asked by: Noelp69</div> <div class="bvseo-answer" data-answerid="2025827"> Hey there! As we pursue new pathways to bring our products directly to you, we are relying on our retail partners to offer you the best of Oster products. You can purchase Oster products and replacement parts at any of our retail partners.&#13;&#10;&#13;&#10;You may find this link helpful for the complete list of our online and in-store authorized retailers:&#13;&#10;https://www.oster.com/service-and-support/Retailers.html#?sortby&#61;newest&#13;&#10;&#13;&#10;If you need further assistance, kindly give us a call at (800) 334-0759 and we will get you all taken care of. For your convenience, we are available Mon-Sat 9am-6pm, EST. <div class="bvseo-author">Answered by: Oster Consumer Care</div> <div class="bvseo-pubdate">Date published: 2020-10-29</div> </div> </div> <div class="bvseo-question-answer" data-questionid="2288836"> <h2 class="bvseo-question"> Does this product contain any material that causes cancer? Or not allowed to be sold in California? </h2> <div class="bvseo-question-detail"> </div> <div class="bvseo-author">Asked by: NYMO718</div> <div class="bvseo-answer" data-answerid="2006886"> Hey there! Thanks for reaching out. All of our toaster ovens are free of PFOA and PTFE. PFOA is banned by California Proposition 65. We comply with Proposition 65. <div class="bvseo-author">Answered by: Oster Consumer Care</div> <div class="bvseo-pubdate">Date published: 2020-10-12</div> </div> </div> <div class="bvseo-question-answer" data-questionid="2307214"> <h2 class="bvseo-question"> Is this oven UL approved? </h2> <div class="bvseo-question-detail"> </div> <div class="bvseo-author">Asked by: Pizza fan</div> <div class="bvseo-answer" data-answerid="2002370"> Thank you for reaching out! All of our products that are sold in the United States and Canada are manufactured and UL approved for 110-120 voltage. <div class="bvseo-author">Answered by: Oster Consumer Care</div> <div class="bvseo-pubdate">Date published: 2020-10-08</div> </div> </div> <div class="bvseo-question-answer" data-questionid="2170146"> <h2 class="bvseo-question"> Is it possible to get a printed copy of the manual for my 80 year old dad. &amp;nbsp; </h2> <div class="bvseo-question-detail"> </div> <div class="bvseo-author">Asked by: Dkburns</div> <div class="bvseo-answer" data-answerid="1945357"> To better help you with the manual copy of your instruction manual for your toaster oven, we urge you to please call us at 1-(800) 334-0759. You can reach us between the hours of 9AM-5PM EST Monday-Friday. We are looking forward to hear from you. Have a great day! <div class="bvseo-author">Answered by: Oster Consumer Care</div> <div class="bvseo-pubdate">Date published: 2020-08-18</div> </div> </div> <div class="bvseo-question-answer" data-questionid="2081259"> <h2 class="bvseo-question"> Where can I get a knob for my pizza oven the time knob </h2> <div class="bvseo-question-detail"> </div> <div class="bvseo-author">Asked by: Steve 05</div> <div class="bvseo-answer" data-answerid="1857405"> Thanks for reaching out! To better help you with replacement parts, we urge you to please call us at (800) 334-0759. You can reach us between the hours of 9AM-6PM EST Monday-Saturday.&#13;&#10;&#13;&#10;We are looking forward to hear from you. Have a great day! <div class="bvseo-author">Answered by: Oster Consumer Care</div> <div class="bvseo-pubdate">Date published: 2020-06-09</div> </div> </div> <div class="bvseo-question-answer" data-questionid="2034623"> <h2 class="bvseo-question"> Where can I get the upper crumb tray? </h2> <div class="bvseo-question-detail"> </div> <div class="bvseo-author">Asked by: joe819876</div> <div class="bvseo-answer" data-answerid="1829558"> Thank you for that question! Please give us a call at 1-(800) 334-0759 in order for us to assist you further. For your convenience our Consumer Care team is available Mon-Fri 9am-6pm, EST. We look forward to assisting you! Have a great day! <div class="bvseo-author">Answered by: Oster Consumer Care</div> <div class="bvseo-pubdate">Date published: 2020-05-25</div> </div> </div> </div> <script type="text/javascript"> if (document.getElementById('bvseo-questionsSection')) { document.getElementById('bvseo-questionsSection').style.display = 'none'; } </script> <!--end-questions--> <!--begin-pagination--> <ul id="bvseo-paginationSection"> <li class="bvseo-paginationItem"><a class="bvseo-paginationLink" href="https://www.oster.com/oster-stainless-steel-convection-oven-with-pizza-drawer/SP_461918.html?bvrrp=Main_Site-en_US/questions/product/2/SP_461918.htm">Oster&reg; Stainless Steel Convection Oven with Pizza Drawer Questions - page 2</a></li> </ul> <!--end-pagination--> <ul id="BVSEO_meta" style="display:none!important"> <li data-bvseo="bvDateModified">y_2021, m_11, d_25, h_18CST</li> <li data-bvseo="ps">bvseo_bulk, prod_bvqa, vn_bulk_3.0.20</li> <li data-bvseo="cp">cp_1, bvpage1</li> <li data-bvseo="co">co_hasquestionsanswers, tq_64</li> <li data-bvseo="cf">loc_en_US, sid_SP_461918, prod, sort_[SortEntry(order=LAST_APPROVED_ANSWER_SUBMISSION_TIME, direction=DESCENDING)]</li> <li data-bvseo="diagnostics">clientName_oster</li> </ul> <!--end-bvseo-questions--> <ul id="BVSEOSDK_meta" style="display: none !important;"> <li data-bvseo="sdk">bvseo_sdk, dw_cartridge, 18.2.0, p_sdk_3.2.0</li> <li data-bvseo="sp_mt">CLOUD, getContent, 0ms</li> <li data-bvseo="ct_st">questions, product</li> </ul>
product-detail-view
oos-pdp